Print Friendly Version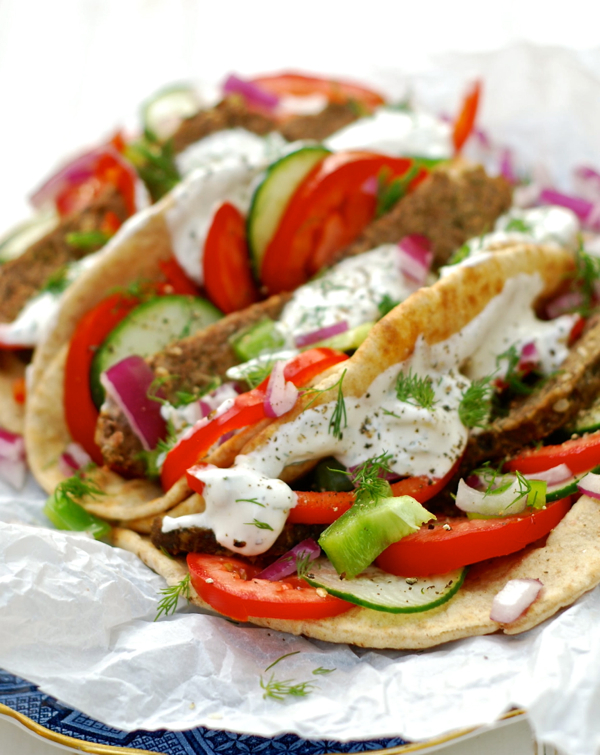 Whenever we go to county fairs, state fairs, food festivals and carnivals, we always seem to seek out the nearest gyro truck. Just this past weekend we indulged in some awesome gyros at the Minnesota Renaissance Festival. We can't seem to get enough!
It got me thinking about creating a gyro recipe that we could enjoy at home with minimal fuss. Why not make them in the Crock Pot? There are LOTS of "Slow Cooker Gyros" and "Crock Pot Greek-Style Sandwich" recipes out there, but most of them call for steak or chicken. Now, I'm sure all of these renditions taste great, but I was looking for something a little more authentic. Why not, I thought, make gyro meat in the form of a meatloaf? What I came up with is this, and the crowd went wild 😉 Sooooo soooo soooo good!
for the crock pot gyro meat:
1 lb. ground lamb
1 lb. ground chuck (don't use extra lean ground beef for this)
2 teaspoons fresh, minced garlic (or 1 heaping Tablespoon if using jarred garlic)
1 teaspoon sea salt
2 Tablespoons dried oregano
1 teaspoon fresh rosemary, minced fine
1 teaspoon fresh thyme leaves + 1 teaspoon dried, ground thyme
1 teaspoon freshly ground black pepper
2 Tablespoons dried, chopped onion
1 teaspoon paprika
juice of 1/2 large lemon
In a large mixing bowl, combine: ground lamb, ground beef, minced garlic, salt, oregano, rosemary, thyme, pepper, dried onion and paprika. Using your hands, mix the ingredients until thoroughly and evenly combined.
Form the meat mixture into two, big, round meatballs. Place them in your slow cooker/Crock Pot. Flatten them slightly. Squeeze the fresh lemon juice evenly over the top surface of both loaves. Sprinkle a little more salt and pepper over the tops of the loaves, if desired. Cover slow cooker and turn on the LOW setting for 3 to 4 hours. Check with a meat thermometer for doneness (160 degrees F.) Don't over cook or your meat may become dry.
When the meat is done cooking, Remove it from the Crock Pot. Place it in a bowl and cover it with foil for 10 minutes before slicing and assembling gyros.
to assemble gyros:
pita bread of your choice, warmed
slow-cooked gyro meat
homemade tzatziki sauce or tahini sauce
thinly sliced, fresh red and green bell pepper
thinly sliced purple/red onion
thinly sliced cucumbers
thinly sliced Roma tomatoes or cherry/grape tomatoes, halved
Kalamata olives (optional)
fresh baby dill, chopped
salt and pepper, to taste
fresh lemon wedges for squeezing over gyros
Place two or three thin slices of the gyro meat on each pita (or load them up if you like!) Top with tzatziki/tahini, bell pepper, onion, cucumber, tomato, olives, dill, salt and pepper.
Enjoy!
~Melissa
You may enjoy these related posts: