Print Friendly Version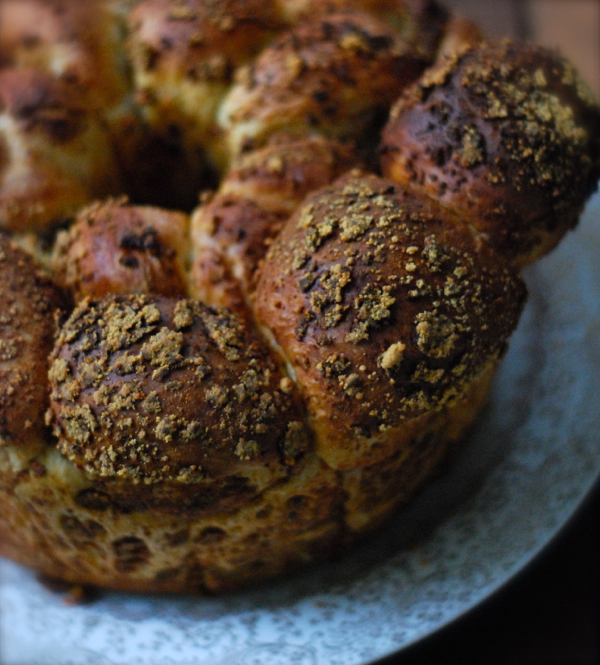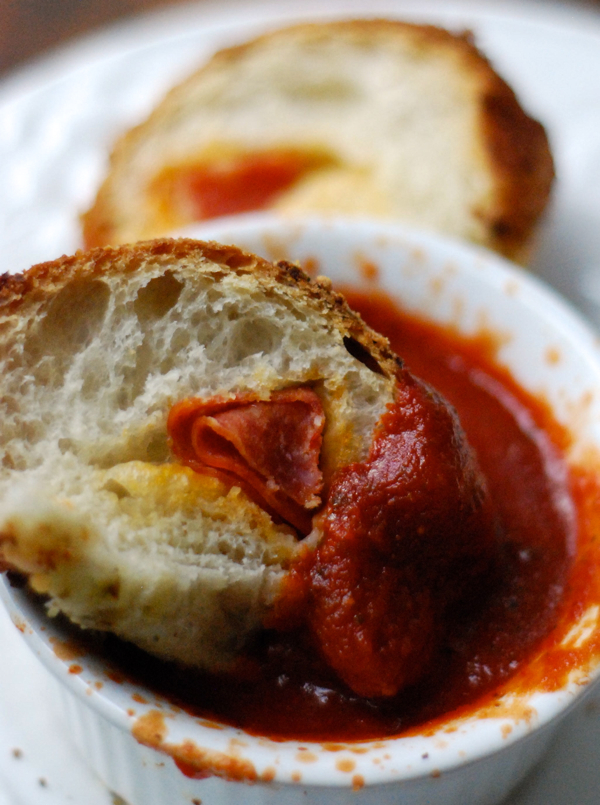 The season of bread baking has begun… I've been in the kitchen making all sorts of different loaves featuring fresh herbs from the garden before I have to harvest them and dry them.
This bubble loaf is very easy if you use the pre-made, frozen bread dough (such as Rhode's) OR if you have homemade bread dough ready. You'll need the equivalent of two standard size loaves of bread… I used white, but you could use wheat or garlic or whatever plain or savory dough you have on hand.
If you're using the frozen Rhode's dough you'll want to set it out on a plate on the counter and allow it to thaw completely (about 2 to 3 hours at room temperature) before you make your bread.
2 standard size balls of bread dough, fresh or completely thawed
1/2 to 3/4 cup homemade basil pesto
onion powder
1 to 1 and 1/2 cups grated Parmesan cheese
24-30 thin slices of pepperoni
marinara sauce (homemade of jarred)
Spray a tube pan with non-stick cooking spray, and sprinkle a little onion powder inside the pan. Cut the fresh/thawed bread dough into approximately 24 to 30 pieces. Roll those pieces into balls. Using your index finger, create an indentation in each ball and put a folded piece of pepperoni inside. Close the indentation completely so the pepperoni is totally encased. Roll each stuffed dough ball first in the pesto and then in the Parmesan cheese. Coat each ball completely and place them in consecutive circles in your prepared tube pan. Once all of the dough balls are stuffed, coated and placed in the pan, sprinkle a little more onion powder over the dough. Spray a piece of Saran wrap with non-stick cooking spray and cover the bread with it. Set the pan in a warm spot to rise for 1 to 2 hours or until doubled in size.
Once doubled in size, preheat oven to 350 degrees F. Uncover the bread and place it on a big baking sheet in the oven (you'll want to use a baking sheet, or line the bottom of your oven with aluminum foil, to catch and of the bread balls that may try to escape from the pan during the baking process.). Bake for 60 minutes (or a little longer) just until bread is well browned and no longer doughy in the center.
Cool for a minute in the pan and then invert onto a cooling rack. Set the loaf right side up again, so "bubbles" are on top. Enjoy while still warm, using warm marinara and/or extra virgin olive oil for dipping. Cool completely before transferring to an air-tight container and refrigerating. This bread is wonderful re-heated for a few seconds in the microwave. We like ours as an appetizer, but it would be wonderful alongside any salad or Italian dish!
XO,
~Melissa
You may enjoy these related posts: