Print Friendly Version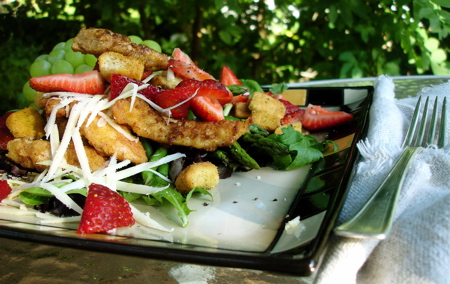 ~summer salad with parmesan crusted chicken~
4 entree salads or 6 appetizer salads
I made this yummy, summery salad for dinner last night and we loved it. It's perfect for a hot summer day when you really don't feel like cooking, and when you want something light and healthy. You could grill or bake the chicken if you don't want the extra fat from the fried chicken strips, but they make this salad pop! A little naughty with the nice is a nice combination.
for the salad, place the following on individual salad plates:
mixed spring greens
fresh basil, parsley and cilantro
steamed asparagus spears
fresh strawberries, sliced
green or red grapes
freshly grated Asiago cheese
for the chicken:
4 boneless, skinless chicken breasts
1 cup all-purpose flour
1 teaspoon freshly ground nutmeg
1/2 cup parmesan cheese
1/2 cup plain, dry bread crumbs
salt and pepper
2 eggs, lightly beaten
1/4 cup whole milk
Slice the chicken breasts into strips, and try to keep them about the same thickness and size so they cook evenly. Blot the chicken strips with paper towels to get them as dry as possible. Season the flour with the nutmeg, salt and pepper. Add the parmesan cheese and bread crumbs. Combine the beaten eggs and milk. Dip the chicken strips in the egg mixture and then dredge them evenly in the bread crumb mixture. Make sure they're coated thoroughly. Mix 1/4 cup real butter and 1/4 cup olive oil in a skillet. Brown all sides of the chicken strips in the melted butter and oil and cook until they're no longer pink. Remove the chicken strips to paper towel-lined plates to cool and drain for a few minutes. Place chicken strips on the salad greens.
for the honey-lemon vinaigrette:
1 cup extra virgin olive oil (I like unfiltered)
juice of one lemon
1 teaspoon lemon zest
1/4 cup warm honey
1 teaspoon salt
1 teaspoon freshly ground pepper
1 teaspoon sweet curry powder
1 Tablespoon Riesling or Muscato
Place all ingredients in a glass canning jar or cruet.
Cover tightly with a lid and shake to thoroughly combine.
Top each salad with a few Tablespoons of the vinaigrette.
Enjoy!
~Melissa
You may enjoy these related posts: