Print Friendly Version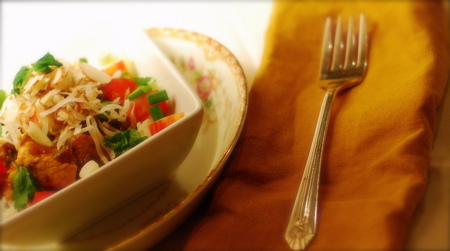 ~ cha cha chicken curry ~
This was such an easy little dish to put together and everyone loved it! There are all sorts of lovely flavors and textures happening here. Your tastebuds are in for a treat!
for the rice:
Cook one cup of Basmati rice according to the package directions. Before the rice water comes to a boil, add one teaspoon cumin, two teaspoons dried onion flakes and one Tablespoon butter. While the rice is cooking, start the sauce…
for the sauce and chicken:
1 and 1/2 lb. thawed chicken breast tenders
2 Tablepsoons extra virgin olive oil
4 cloves fresh garlic
3 inches fresh ginger root, grated
2 cups chicken broth or stock
3 Tablespoons Tandoori curry powder (or your favorite curry)
1 cup mincemeat
1/2 cup caramelized onion
1 Tablespoon grainy mustard
salt, pepper and Sriracha to taste
2 Tablespoons flour
Brown the chicken breast tenders in the olive oil until no longer pink. Remove to a plate. In the same skillet, saute the ginger and onion for 5 minutes…add the garlic during the last minute so it doesn't burn. Add flour. Cook for one minute. Add chicken broth. When the sauce begins to bubble, add the curry, mincemeat, caramelized onion, mustard and the chicken. Cook until everything is completely cooked and heated through. Season with the salt, pepper and Sriracha to taste.
Place a little bed of rice in 4 bowls. Top with the chicken and sauce.
garnish with:
chopped green onion plus the green tops
toasted coconut
sliced almonds
coarse chopped, fresh cilantro
crispy, tart apple chunks
 fresh tomato chunks
Enjoy!
XO,
~Melissa
You may enjoy these related posts: