Print Friendly Version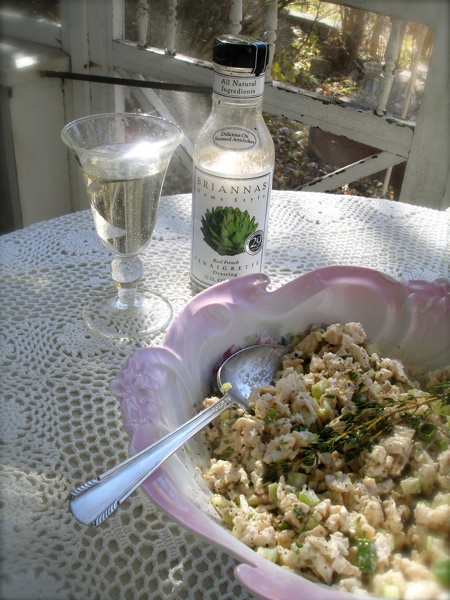 ~ south of france chicken salad ~
"Provence is a country to which I am always returning. Next week, next year, any day now. As soon as I can get on a train." ~Elizabeth David
In honor of National Sandwich Day (NSD) I decided to create a new recipe for chicken salad. It's the perfect balance of sweet, tangy and crunchy-creamy. Jeff and I took a lunch break together and ate this open faced over toasted wheat bread. Bon Appetit!
3 large, boneless, skinless chicken breasts
3 green onions, chopped (including some of the green tops)
1 celery stick, chopped fine
1/4 cup real mayonnaise
2 Tablespoons Brianna's French Vinaigrette
1 Tablespoon apricot preserves
2 teaspoons dried tarragon
1 and 1/2 teaspoons fresh thyme leaves
sea salt and fresh ground pepper to taste
Cook the chicken breasts in a little white wine and olive oil until completely heated through and juices run clear. Chill for a few hours. Chop and combine with the other ingredients until all ingredients are well incorporated. Serve on toast, crusty baguette, croissants or a bed of spring greens.
Enjoy!
~Melissa
You may enjoy these related posts: