Print Friendly Version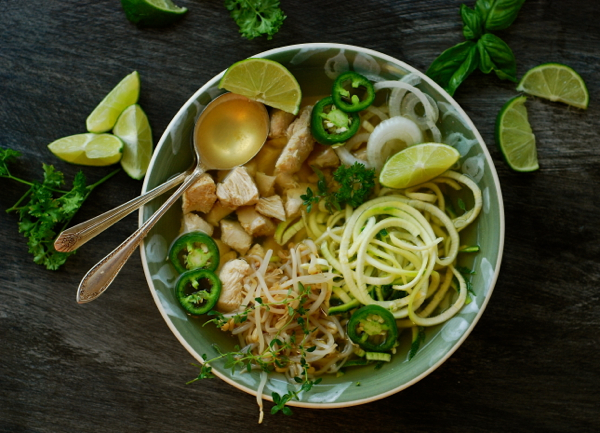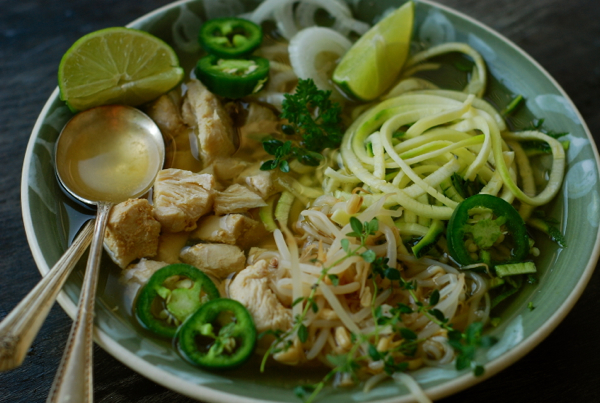 Pho is such a simple, beautiful, healthy dish. Eat this for lunch or dinner every day for a week and you'll lose weight, feel amazing, and detoxify without sacrificing satisfaction or flavor. Feel free to use the traditional rice noodles in place of the zoodles (zucchini noodles) if you wish. I made this with spiralized zucchini and didn't miss the rice noodles one bit.
serves 2
for the pho:
 6 cups chicken stock (homemade is best)
2 pieces of bone-in, skin-on chicken
coarsely chopped, fresh cilantro
3 to 4 inches fresh ginger, coarsely chopped
3 large garlic cloves, minced
sea salt, to taste
freshly ground pepper, to taste
1 Tablespoon brown sugar OR coconut sugar
1 Tablespoon Ponzu sauce OR lite soy sauce (plus more for serving)
1 small white or yellow onion, thinly sliced
juice of one lime (plus more wedges for serving)
additions for serving:
1 zucchini, unpeeled and spiralized
whole sprigs cilantro
fresh basil, coarsely chopped
fresh thyme sprigs
serrano OR jalapeno chilies, sliced
a handful of fresh or canned sprouts
lime wedges
hot sauce (optional)
Place stock, chicken pieces, cilantro, ginger, garlic, salt, and pepper in a medium saucepan. Bring to boil, reduce heat and simmer for 10 to 15 minutes, or just until the chicken is completely cooked all the way through.
Remove chicken from soup. Shred or chop meat, cover and set aside to keep warm. Return bones and skin to saucepan. Simmer for 10 minutes. Strain the stock and return it to the saucepan. Throw the solids away. Add: sugar, ponzu, onion, and lime juice. Taste, and adjust seasonings to your liking.
Divide the spiralized zucchini between two bowls. Pour some of the hot liquid over. Serve with cilantro, basil, thyme, chilies, sprouts, lime wedges, and hot sauce.
Enjoy!
~Melissa
You may enjoy these related posts: