Print Friendly Version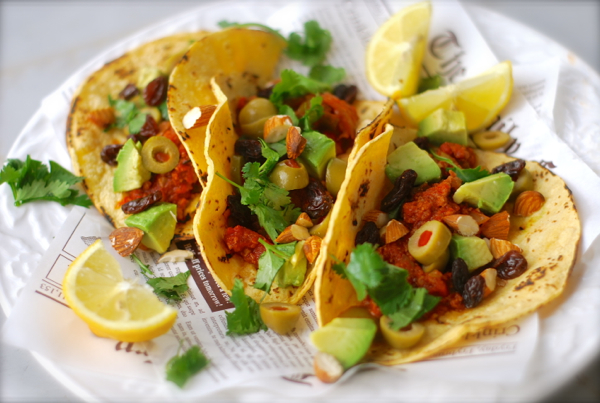 Have I mentioned that I adore tacos? I think I have. We make them at least once a week, and I eat them for my nutritious, gluten free, high protein breakfast almost every day. I'm always looking for inspiration and new twists on the classic recipes when it comes to tacos. They're a great way to use up leftover grilled meat, and almost any fresh veggie tastes amazing on a taco. A dollop of plain greek yogurt, and a drizzle of hot sauce and you're good to go.
Latin picadillo makes an inspired taco filling or topping for brown rice. I made this in my slow cooker yesterday and it was delicious. So easy too! Try it and see!
*Note: If you decide to make this to go over rice, add 1 cup of chicken or beef stock to the Crock Pot along with the other ingredients.
1 and 1/2 lb. lean ground beef, turkey or bison
2 Tablespoons olive oil
1 medium onion, chopped
1 small green bell pepper, seeds and stem removed, chopped
2 jalapeno peppers, stems removed, chopped fine
3 large cloves garlic, minced
1 (14 oz.) can fire roasted, petite diced tomatoes, undrained
1 small can tomato paste
1 Tablespoon apple cider vinegar
2 Tablespoons chili powder (mild)
1 Tablespoon dry oregano
1 Tablespoon smoked paprika
1 teaspoon cinnamon
1/4 teaspoon cayenne pepper
dash of sweet curry powder
Toppings:
1/2 cup raisins (or more)
1/2 cup slivered or chopped almonds (or more)
1/2 cup pimento-stuffed green olives, sliced (or more)
2 avocados, chopped
1 bunch cilantro, chopped
plain Greek yogurt or sour cream
salt and pepper, to taste
hot sauce
lemon and/or lime wedges
If you're using very lean meat (as the recipe suggests) you'll want to brown it in olive oil. This adds flavor to the meat and keeps it from sticking to your skillet.
Heat olive oil in skillet. Brown meat so it's about half brown, half pink. Transfer it to a 4 quart slow cooker. Add the onions, peppers, garlic, tomatoes, tomato paste, vinegar, and spices. Mix well. Cover and cook on LOW for 6 to 7 hours.
Toast corn or flour tortillas "food truck" style by heating them over a low flame, directly over a burner, on your gas stove. Make sure to check the tortillas often as they cook. It only takes about 10 seconds per side.
Fill tortillas with the picadillo meat filling and top with any or all of the suggested garnishes.
Enjoy!
~Melissa
You may enjoy these related posts: