Print Friendly Version
"I don't drink coffee, I take tea my dear." ~Sting
If I told you about all of my adventures in tea I could absolutely write my own book…maybe two. I've already given you a little history in my blog entitled "The Mysteries of Tea." How I just 'happened' to buy my first home a block away from a tearoom. My friend Bonnie, proprietor of "The Tale of Two Sisters" Tearoom and Gift Shoppe, would call this a "Godsciedence" and I'd have to agree with her. Serendipity!
I was a tearoom 'groupie' at the tearoom before I became an employee. I remember when we were moving into our first home we only had a week to get the house in order before we were due to go to Boston on a business trip. I remember cleaning, unpacking and organizing until I actually gave myself a fever and ended up horizontal on our couch. Time for a break! Jeff and I had shared a cup of tea at the tearoom the morning we closed on the house and I decided this was the time to return. I wanted tea and lunch made by someone other than myself.
So I walked on over and ordered a refreshing, tall glass of iced "Earl Blue" (Earl Grey+lavender blossoms)…and a fresh spinach salad with chicken. Bonnie sat with me while I ate my lunch and I remember thinking how fortunate I was to have such a lovely tearoom so close, and that my new neighbors were so friendly 🙂
Unfortunately, for all of us who frequented the tearoom, and especially for those of us who were employed there, after ten wonderful years, the tearoom has closed it's doors. But, on the bright side, Bonnie wrote a cookbook sharing all of her yummy recipes. I was so honored when I discovered that she included some of my recipes in her book. The memories of my days at the tearoom will live in my heart forever.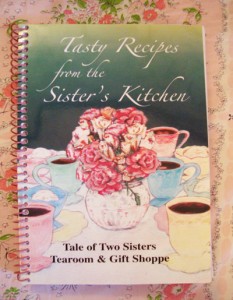 The soup recipes alone make this book worth it's weight in gold, but I'd like to share my all time favorite quiche recipe with you. I've made this quiche so many times that I no longer need to reference the cookbook. It's the same with scones…I could make them in my sleep.  I'm sure this recipe will become a favorite of yours as well!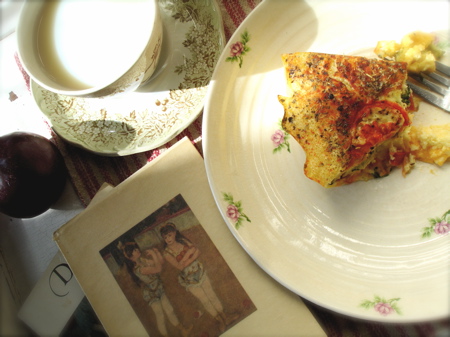 Tale of Two Sisters Crustless Quiche
6 beaten eggs
3 egg whites
3/4 cup Bisquick
1 cup heavy cream
4 oz. softened cream cheese
1 cup crumbled Feta cheese
1 cup shredded cheddar cheese
black olives, sundried tomatoes, herbs (optional)
Line a deep quiche pan with parchment paper and spray with cooking spray. Place the feta and cheddar cheese in the bottom of the pan. sprinkle with some olives, sundried tomatoes and herbs. Beat eggs and egg whites in a table top mixer until foamy. Add 1 cup heavy cream and cream cheese. Mix well. Add 3/4 cup Bisquick, mix well. Add salt and pepper, mix well. Pour egg mixture over cheeses and bake in a 375 degree oven until puffed and brown.
The Shakopee newspaper wrote an article bout this lovely cook book. If you're interested in ordering one…
The cookbooks can be ordered by e-mailing… The cost of each cookbook is $11.99.
(unfortunately this book was a limited edition and is now out of print.)
~Melissa
You may enjoy these related posts: