Print Friendly Version
Today I am writing my 200th blog entry! Thank you faithful readers!
I was thinking it might be fun to write about something new, and decided to add a sub category to my 'Travel Journal'  for those of you who may want to visit Red Wing some time. I didn't grow up here, so I can't claim it as my 'home' town, but I have lived here for 10 years. I hope that makes me qualified to write about the beautiful river valley town I now call home.
I won't be telling you everything about Red Wing at once. Instead, I thought it would be more fun to give you little bits of information at a time so we can discuss them in detail, and so I can answer any questions you may have. Sound fun? Here we go…
One of the first things you should know about Red Wing is it's steeped in history. According to "National Geographic Traveler" it is one of the top 25 historic destinations in the world, and one of three American cities to make the list. The "National Trust for Historic Preservation" named Red Wing one of only ten Distinctive Destinations. So, if you're a history buff, you've come to the right place.
A great way to  see Red Wing and hear more about it's rich history as well as what's happening around town today, is by Trolley.  The Red Wing Trolley Company offers narrated tours of all the top attractions from 11:00 AM to 3:00 PM Thursday through Monday. The cost is $10 per adult, $9 for seniors 62 and older, $5 for children 11-17 and free to children 10 and under. Tours run on the hour and last about 50 minutes.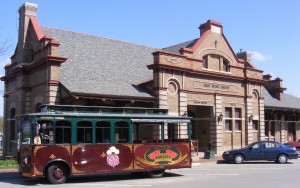 What will you see on the tour? Red Wing's Boathouse Village, Red Wing Pottery District, Barn Bluff and a tour of the historic residential neighborhoods.
The trolley is also a great form of transportation for people who arrived in town by boat or train and find themselves without a car. They can buy a ticket that will allow them to get on and off the trolley at any of four stops: Pottery Place (for shopping), the Sheldon Theater (for a play), Barn Bluff (for a hike), and Colvill Park (for a picnic in the park, or a visit to the aquatic center.)
For more information visit the Red Wing Trolley's website, or call (651) 380-3220.
Hope to see you soon!
~Melissa
You may enjoy these related posts: