Print Friendly Version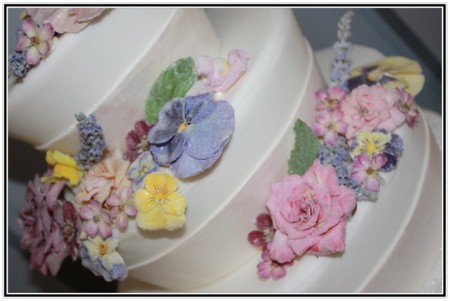 I would like to welcome my friend and talented flower artist, Karen Toocheck, to ChinDeep today for a very special Valentine's post! She is the proprietor of a wonderful business called The Crystallized Flower Company located in Willoughby Ohio and has generously agreed to share some of the magic and wisdom that goes into crystallizing flowers. I can't wait to try this! I'm already thinking of all sorts of ways to use these gorgeous little blooms! Without further adieu, here's Karen …
When my favorite 'Flower Fairy'(AKA Melissa Placzek) asked me to write a short, guest blog about the inception of my company, Crystallized Flower Company and the art of crystallizing flowers, I wasn't sure if I could really introduce any new concepts to the process of crystallizing flowers that aren't already floating around out there on the internet or not. But like any good friend I said "I think I can!"
Crystallized flowers, or candied flowers if you will, are real, edible flowers (yes from the soil) that have been preserved or candied. Most of the recipes and instructions you'll find on the internet, or in books, about crystallizing flowers are basically the same. Take edible flowers, coat them in egg whites, sprinkle them with sugar and let the flowers dry completely. Then take your pretty edible petals and dress-up your favorite pastry, impress your guests, and enjoy! Sounds simple enough and it is, and it works. This method of crystallizing flowers is actually how I began experimenting with the process of candying flowers. About a year later I launched my company.
The above method of crystallizing flowers will allow you to candy about 20-40 flowers a day. My company crystallizes anywhere from 700-1500 flowers a day during our peek growing seasons. We raise and lower these numbers to accommodate demand. I'm not here to tell you how my company crystallizes flowers though; instead Melissa asked me to share a few tips and suggestions so that you might be successful at crystallizing your own flowers on a small scale. So let's get to work!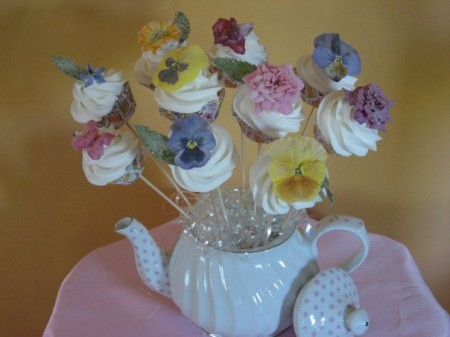 We recommend that the novice crystallizers start out using smaller varieties of flowers to begin and for the purpose of this article we'll use violets, also known as violas. We found smaller varieties of flowers have a higher success rate of crystallization. When choosing your violas, make sure they are chemical, pesticide and growth hormone free. Your best option is to grow your own. You may be able to find organically grown flowers at your local farmers market or you might try doing a Google search to find out if there are any edible flower farms in your area. A lot of CSA (Community Supported Agriculture) farms grow edible flowers as well. For more information on what types of flowers are edible you can visit: http://homecooking.about.com/library/weekly/blflowers.htm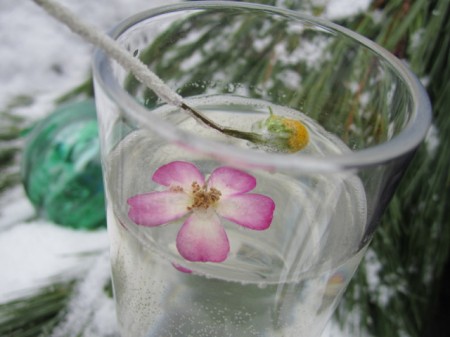 First I recommend not using egg whites. You risk salmonella poisoning to yourself and any guests by using egg whites. I also discovered that that over a period of time egg whites have a tendency to age and discolor your flowers when storing them for prolonged periods of time…yuck! You can substitute powdered egg whites for real egg whites. This would remove any possibility of salmonella contamination but it does not resolve the discoloring issue. Instead pick-up some powdered meringue from your local baking or craft supply store. Follow the mixing directions on the can but dilute it down a bit.
Cut your violas in the early morning. Leaving enough of them stem on them to grasp them by. Once the heat of the day is upon them you'll find your success rate will decrease. Cut five to ten at a time and keep them cool or in a small vase of water until you can coat them. Coat your violas with your diluted meringue by using a good paint brush. I like to use a medium sized filbert paint brush (also known as a cat's paw). Paint the front and the back of every petal completely. The flowers petals naturally repel rain water and your petals will try to repel the meringue but with continued brush strokes they will eventually coat. Where petals lap each other, try to glue them together with the meringue.
Once you have the flowers coated with your meringue, sprinkle them with a superfine sugar. Domino makes a superfine sugar or you can buy castor sugar (bartender's sugar) from your local liquor store. Once the flower is sugared, cut the stem off and allow them to dry on wax paper. Cutting the stem off will help them to dry faster. Crystallizing flowers must be done in a temperature controlled environment. This means air-conditioning. If there is too much humidity in the air, your flowers will melt. Violas take 2-4 days to completely dry. Make sure the entire flower is dry before storing them. Larger flowers can take longer. Lavender stems can take up to 14 days to dry. To speed the drying process up try placing them under a ceiling fan, set to low speed, or place them in an oven with only the pilot light on.
Once your flowers are dry you can store them in air-tight containers, at room temperature and out of any type of direct light. Your flowers should have a shelf-life of a year. Some flowers, such as lavender, will store indefinitely!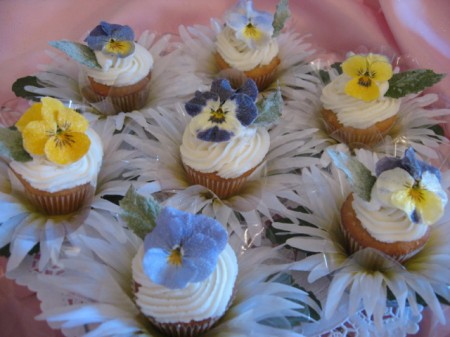 Crystallized flowers have a light, sweet crunchy texture and taste reminiscent of their individual essence. Edible flower blossoms have been eaten for thousands of years and can be traced back through centuries to as early as 140 BC. The oldest Chinese book about herbs the 'Shen Nong Ben Cao' dates back to 2700 BC (…and I bet they munched on a few petals back then too). Edible flowers are being seen as a healthy, local way to eat. Almost nil in calories and a sourceful of trace minerals, vitamins and antioxidants! Did you know that deep orange petals may contain beta carotene and potassium? Yellow flowers are a very good source of vitamin A. Roses are high in vitamin C and antioxidants. Pansies are rich in vitamin A & C and are a source of rutin, which benefits the cardiovascular system. Pollen is full of protein. Nectar is composed of sugars and trace minerals. Studies conducted by Michigan State University, East Lansing, Michigan, sought to extract various compounds from Daylilies (Hermerocallis). These compounds were tested for their antioxidant activities. Several of these compounds were found to exhibit strong antioxidant properties, inhibiting lipid oxidation. Daylilies have been used in traditional Asian cuisine for centuries. Their petals are actually an important ingredient in Chinese hot & sour soup.
Introduce flowers into your diet modestly. Too much of a good thing may cause problems for your digestive system. Always remove pistols and stamens from your flowers when possible. If you have allergies, large quantities may aggravate them. Now let's see you crystallize some flowers!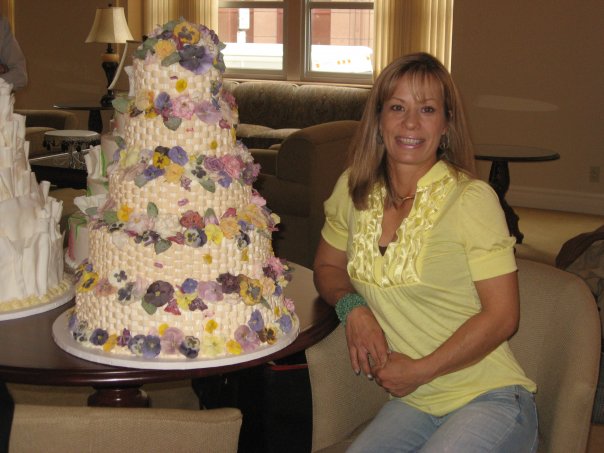 Thanks for writing this beautiful article Karen!
To order some of Karen's beautiful crystallized flowers for your special event, go to:
Happy Valentine's!
~Melissa
You may enjoy these related posts: