Print Friendly Version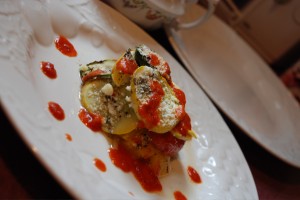 Remy: [laying still, Remy reaches up and tastes food, sits up suddenly] "You gotta taste this! This is… oh, it's got this kind of… mmm, it's burny, it's melty… it's not really a smoky taste. It's kind of like a certain… Pshah! It's got like this " Ba-boom! Zap!" kind of taste. Dont you think? What would you call that flavor?"
Emile: "Lightningy?"
~from Disney's movie Ratatouille
To make Baked Ratatouille:
1 large purple onion, thinly sliced
1/2 cup extra virgin olive oil
6 cloves garlic, finely sliced
1 eggplant, sliced 1/2 inch thick
2 red bell peppers, seeded and cut into eighths
2 yellow bell peppers, seeded and cut into eighths
2 zucchini sliced thin
5 Roma tomatoes, cored and cut into quarters
1 jar marinated artichoke hearts
a couple handfuls pitted green olives or kalamata olives
combination of fresh herbs such as rosemary, thyme, basil and parsley chopped to equal about 1/4 cup
splash of red wine
feta cheese and freshly grated parmesan cheese for garnish
a jar of good marinara
Preheat oven to 350. In a 9×13 baking dish layer onions and drizzle a little olive oil over. Season with salt and freshly ground pepper and  a sprinkle of the herbs. Repeat with remaining vegetables, topping with a splash or dry red wine. Cover tightly with aluminum foil and bake for one hour and 15 minutes. Uncover and bake an extra 15 minutes. Just before serving, top with a little warmed marinara sauce and the cheeses. Serve with crusty baguette and your favorite dry red wine.
~Melissa
You may enjoy these related posts: