Print Friendly Version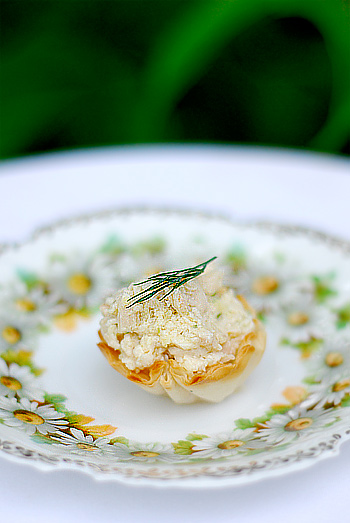 Happy TeaTime Tuesday! Here's a recipe I promised you a loooooong time ago… from  a Mad Hatter Tea Party I hosted back in 2010 . These little teatime savories are the perfect addition to a tea tray, and a good way to use up any leftovers you may have when you make my Hawaiian Cold Ginger Chicken. This zesty, refreshing chicken salad also makes awesome sandwiches!
2 to 4 cups cooked, chopped chicken
1/4 cup cold ginger chicken sauce
1/4 cup real mayonnaise
salt and pepper to taste
phyllo cups
fresh herb sprigs for garnish
Just mix the chicken, ginger sauce, mayonnaise and seasonings until you have the consistency you like…add the sauce and mayo a little at a  time so you don't end up with chicken salad that's too wet or runny. When you have the desired consistency, spoon the salad into pre-made phyllo cups (or you can make your own.) Garnish with little sprigs of fresh herbs if you wish.
Enjoy!
XO,
Melissa
You may enjoy these related posts: