Print Friendly Version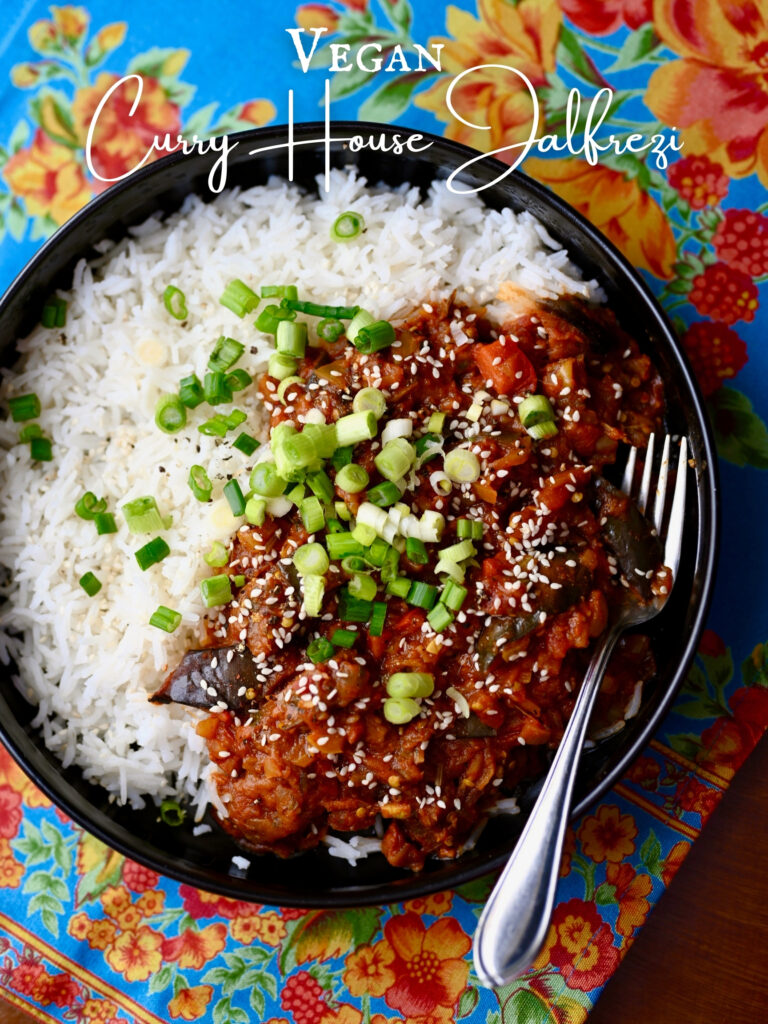 This red, spicy curry is one of my favorites. I love creamy yellow curry, and bright, fresh green curry too. But there's just something about this eggplant and tomato based curry that puts it over the top for me. I like yellow curry with potatoes, green curry with noodles, and red curry with rice. That's just how I roll. Feel free to change it up if you wish. Serve with a sweet, vinegary mango chutney, a sprinkle of toasted sesame seeds, and some chopped green onion. So good! I enjoy curries with gewurztraminer wine or a big mug of sweet, milky chai (oat milk, of course).
At first glance this recipe might seem complicated. There are a lot of ingredients. Don't be afraid to substitute if you need to. This makes a big batch and will serve a big family, or will make plenty so you have leftovers for the week. I love having this on hand for quick lunches.
First make up a big pot of basmati rice for serving.
2 large eggplant
2 Tablespoons olive oil
1 large onion, coarse chopped
1 yellow bell pepper, coarse chopped
1 orange bell pepper, coarse chopped
1 small bunch of fresh cilantro, coarse chopped
1 (15 oz.) can fire roasted, petite diced tomatoes
1/2 cup tomato paste
3 inch piece fresh ginger, peeled and grated fine
6 large garlic cloves, minced
1/4 c. sweet curry powder, or red curry paste (to taste)
1/2 to 1 teaspoon cayenne pepper
2 to 4 cups low sodium vegetable stock
2 Tablespoons sweet, smoky BBQ sauce
2 Tablespoons sriracha hot sauce
1 Tablespoon red wine vinegar
1/2 teaspoon cumin
1/2 teaspoon turmeric
2 Tablespoons smoked paprika
1 teaspoon garam masala
2 Tablespoons Mrs. Dash seasoning (original table blend)
1 teaspoon celery seed
Cut eggplant into 1/2 inch slices. Lay out on plates and salt slices on both sides. Allow to sit for 15 minutes to "sweat." Blot dry. Rub with olive oil and grill in a grill pan until tender and eggplant has dark grill marks on both sides (you can do this in a regular frying pan if you don't have a grill pan, just make sure to cook the eggplant until tender and dark/golden on both sides.) Once eggplant is done cooking, remove from heat and set aside. When it cools down, cut it into bite size pieces.
In a large soup pot, heat 2 Tablespoons olive oil. Add the onion and bell peppers. Cook until onions are translucent and veggies are tender and slightly browned. Add the garlic and ginger. Cook for a minute or two or until the garlic is lightly golden and fragrant. Add cilantro, tomatoes, tomato paste, all the spices, 1 cup of stock, BBQ sauce, hot sauce, red wine vinegar, and the prepared eggplant. Stir well. bring to a boil and then lower heat to a gentle simmer. Place a lid on the pot so it's slightly askew, and allow to simmer gently for 30 minutes so the flavors can marry. Add more stock as needed to make the curry the consistency and thickness you desire. I like mine thick like a stew. When the 30 minutes is almost up, taste to adjust seasonings. Salt and pepper, to taste.
To plate: Ladle over hot basmati rice in single serving pasta bowls. Sprinkle some toasted sesame seeds and sliced green onion over the top. Other optional toppings: peanuts, chopped apple, mango chutney, and more fresh cilantro.
Enjoy!
~Melissa
You may enjoy these related posts: