Print Friendly Version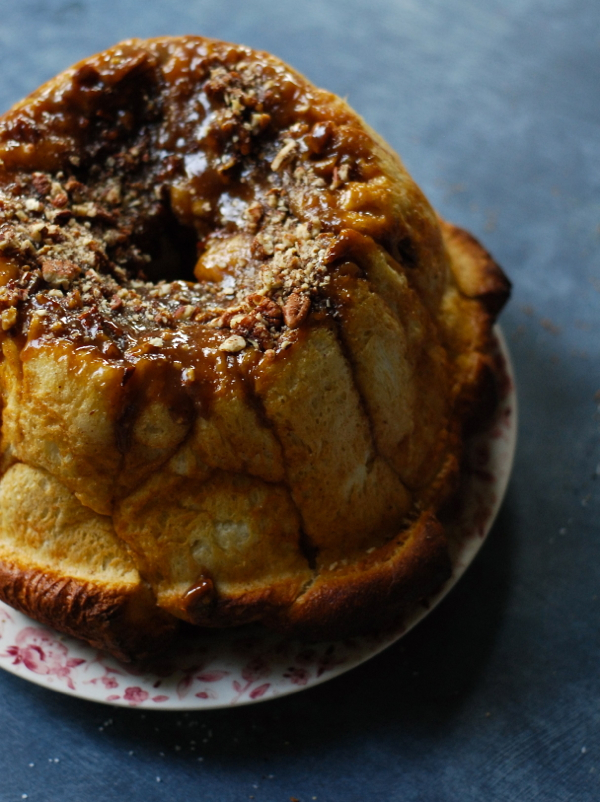 This was my first attempt at monkey bread and it turned out really yummy. I decided to make one of these for our friend Dave, and he said it's the best monkey bread he's ever had. I made mine with homemade caramel sauce, but you could use pre-made caramel sauce if you're in a hurry. This makes a great addition to a breakfast or brunch gathering, or as a dessert.
2 loaves Rhode's white bread dough, thawed but still cold
1 and 1/2 cups homemade butter caramel (cinnamon caramel variation)
1/2 cup chopped pecans
Spray a tube pan or bundt pan with nonstick cooking spray. Cut each thawed, cold bread dough loaf into quarters. Cut each of those quarters into quarters. Sprinkle the chopped pecans into the pan. Dip each piece of the dough into the caramel and place them as evenly ad possible into the pan. If you have any extra caramel, drizzle that over the pieces in the pan. Cover with plastic wrap and allow to rise in a warm spot for 1 to 2 hours, or until doubled in size. Remove plastic wrap and bake at 350 degrees F for 35 to 45 minutes or until golden brown. Remove from oven. Cool one minute. Invert onto a serving platter.
Enjoy!
~Melissa
You may enjoy these related posts: