Print Friendly Version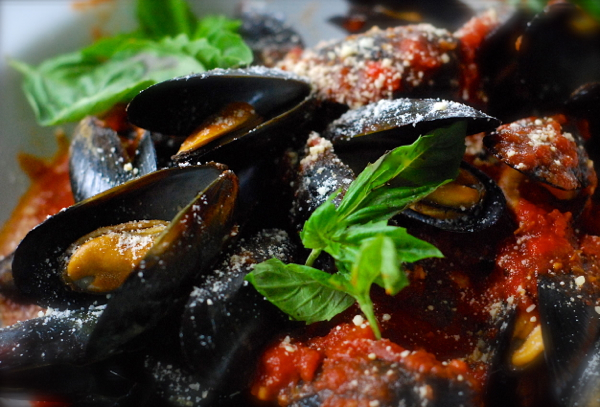 Oh my goodness… My cooking regimen has become pretty lazy this last month or so. I'm all about getting in and out of the kitchen quickly, making as small of a mess as possible, and not heating up the whole house for hours on end.
This is one of my favorite things to make in the summer. We enjoy mussels in a classic white wine garlic sauce, OR like this…
To clean mussels:
Scrub them with a brush under cold water and scrape off any barnacles with a knife. If the "beard," is still attached (most cultivated mussels have been trimmed mechanically), remove it by pulling it from tip to hinge or pulling and cutting it off with a sharp knife. Do this just before cooking. Discard any mussels with cracked or open shells.
To steam mussels:
For 1 1/2 to 4 1/2 pounds mussels, put 1 cup liquid (water or a mix of water and dry white wine or light colored beer) in a 4 to 6-quart pot. Bring to a boil, then pour in the mussels and cover. Reduce heat to medium-low and cook, stirring occasionally, until the mussels open wide. This will take 3 to 6 minutes, but check frequently after 3 minutes. Scoop out the mussels with a slotted spoon (discard any that are unopened) and save the flavorful liquor, for fish soup, stew or chowder, if desired.
Heat a jar of your favorite Arrabbiata sauce until simmering. (We love Pomodori Gourmet Foods Arrabbiata Sauce and Trader Joe's Arrabiata Sauce.) Place the mussels in a big bowl and pour the Arrabbiata sauce over the mussels. Sprinkle a generous amount of Parmesan cheese on top of everything. Garnish with a bunch of fresh basil sprigs. Serve with fresh garlic bread or toasted, buttered baguette slices. Enjoy with a glass of your favorite red or white wine (Chianti or Sauvingnon Blanc are especially good with this dish!)
XOXO,
~Melissa
You may enjoy these related posts: