Print Friendly Version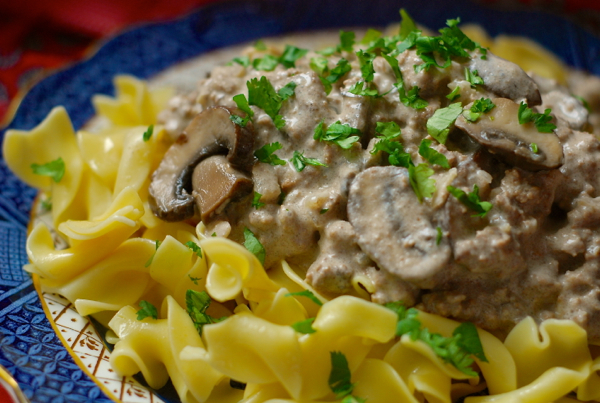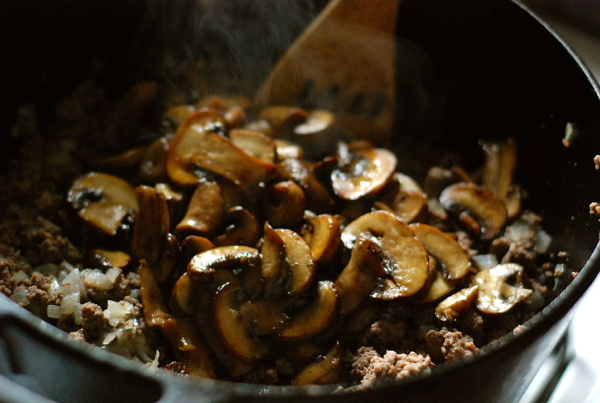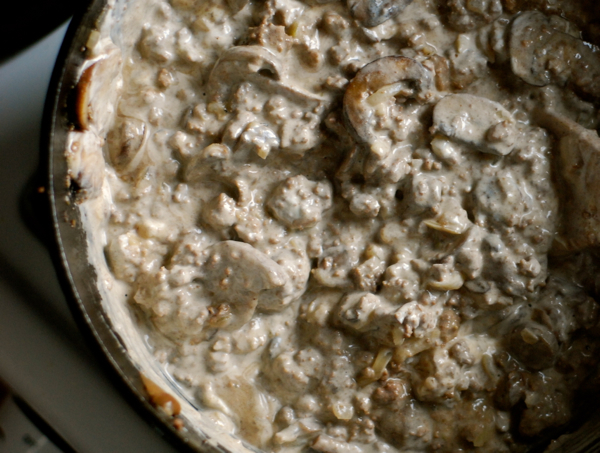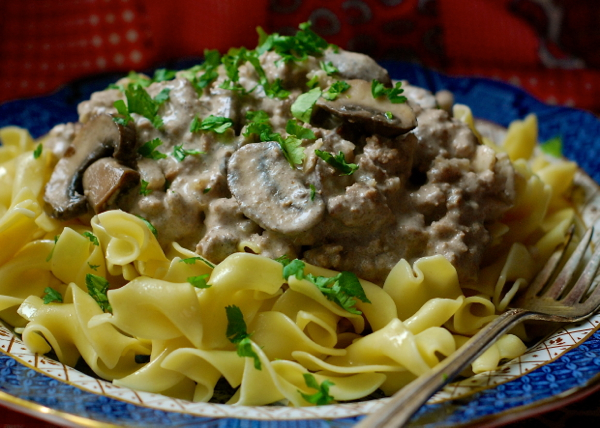 Mmmmm…. Another comfort food meal to cozy up with this winter! So simple and so good! You're going to love how fast this goes together and how completely yummy it is!
2 lb. lean hamburger
1 large onion, chopped
1/4 cup butter
16 oz (1lb.) fresh baby bella mushrooms, washed well, sliced
2 large cloves garlic, minced
1 can beef consomme
2 Tablespoons Worcestershire sauce
3 Tablespoons cornstarch
1/2 cup dry white wine
1/4 teaspoon white pepper (or freshly ground black pepper)
1/2 teaspoon fresh thyme leaves
2 cups sour cream
Cook hamburger and onion in skillet until meat is completely cooked through. Remove to a larger pot (such as a Dutch oven.) Add 2 Tablespoons butter to skillet and cook half of the mushrooms in the butter until browned. Transfer to pot with meat. Repeat with the rest of the butter and mushrooms, adding the minced garlic to the second batch during the last minute of cooking time. Transfer to pot with the rest of the hamburger/musroom mixture. Cover and set aside.
Mix the consomme, Worcestershire sauce, and cornstarch. Whisk until smooth. Heat over burner, whisking constantly, until thickened. Add to hamburger mixture. Deglaze the pan you used for the consomme mixture with the wine. Mix, scraping up brown bits from pan. Add to hamburger mixture. Add thyme and white pepper. Stir well, and heat through.
When hot, add the sour cream and stir well. Heat through. Serve immediately over hot egg noodles or mashed potatoes! Salt and pepper, to taste. Garnish with a little chopped fresh parsley, if you wish.
Enjoy!
~Melissa
You may enjoy these related posts: