Print Friendly Version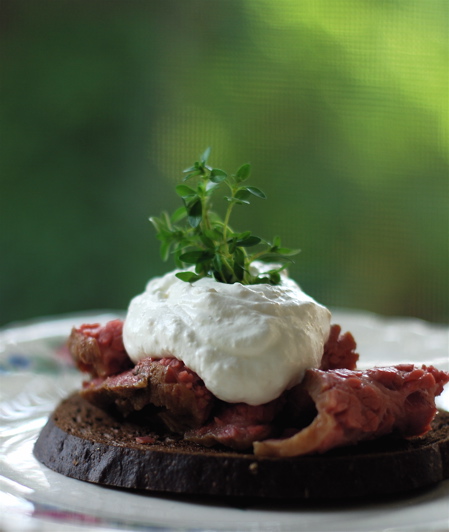 ~ marinated corned beef with horseradish chantilly cream ~
This is a really easy dish to prepare, but it does require some time, so plan on getting started in the morning if you want to serve it for dinner. The scent of the marinating spices is intoxicating and by the time you enjoy the succulent sandwich your mouth will be watering. Topped with savory, feather-light horseradish chantilly cream…this is one of my favorite things to make for dinner parties in the summer.
3-4 lb. corned beef brisket (lean, straight cut)
1 large onion, peeled and quartered
3 large cloves garlic, cut into big chunks
fresh bouquet garni made of thyme, oregano, parsley and sage
1 bay leaf
2 teaspoons pickling spices
1 teaspoon cracked pepper
1/4 teaspoon ground cloves
water to cover
Blot meat with paper towels. Place in a heavy Dutch oven and add all the other ingredients. Don't add any salt. Slowly bring to a boil, reduce heat to barely simmering, and allow to cook with the lid of the Dutch oven slightly askew for 3 hours. Add more water if necessary to keep the meat submerged. Pierce with a fork to test for doneness. Allow the meat to cool in the broth for an additional 2 hours to marinate and absorb more flavor. Remove meat to a carving board and allow it to rest for 10 minutes before slicing. Slice 1/8 inch thick. Serve on slices of toasted pumpernickel rye and top with a dollop of the horseradish chantilly cream.
to make the horseradish chantilly cream:
1/2 cup heavy cream, whipped until very stiff
1/2 cup sour cream
2 Tablespoons well-drained white horseradish
season to taste with salt and white pepper
Combine all ingredients and serve immediately.
Enjoy!
~Melissa
You may enjoy these related posts: