Print Friendly Version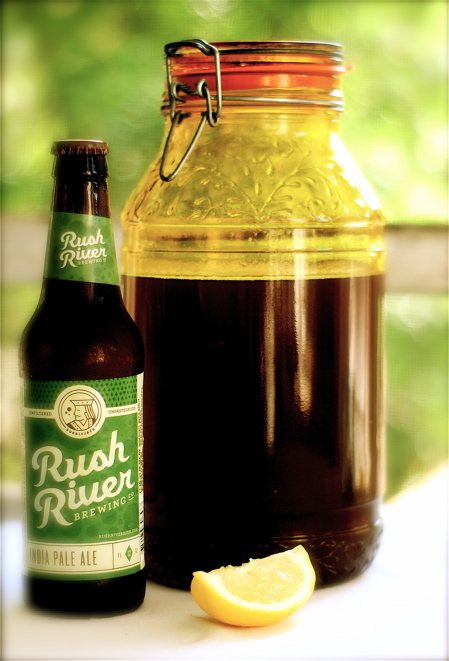 ~ homemade summer shandy ~
A wonderfully refreshing summer beverage that you can make for a lazy afternoon in the back yard while reading a book on the hammock, or for your next gathering. I think this would be fun to serve for a 4th of July picnic! Easy and much better than the premade variety.
First you'll need homemade lemonade:
1 and 1/2 cups sugar
2 cups water
2 cups fresh lemon juice
6 cups cold water (to dilute)
Make simple syrup by heating the sugar and 2 cups of the water in a saucepan. Stir until sugar is dissolved. Once dissolved, remove from heat and set aside. Add the fresh lemon juice (from approximately 8-12 lemons, depending on size) to a pitcher. Add the sugar syrup and the rest of the cold water. Stir and chill completely.
for the shandy:
Mix equal parts cold, homemade lemonade and cold beer (we used pale ale) to serving glasses. Adjust amounts to suit your taste. Garnish with lemon wedges.
You can combine equal parts cold homemade lemonade and cold beer to a large jar or serving jug as pictured above and set it in a cooler to keep the shandy chilled when serving a large crowd.
Enjoy!
~Melissa
You may enjoy these related posts: