Print Friendly Version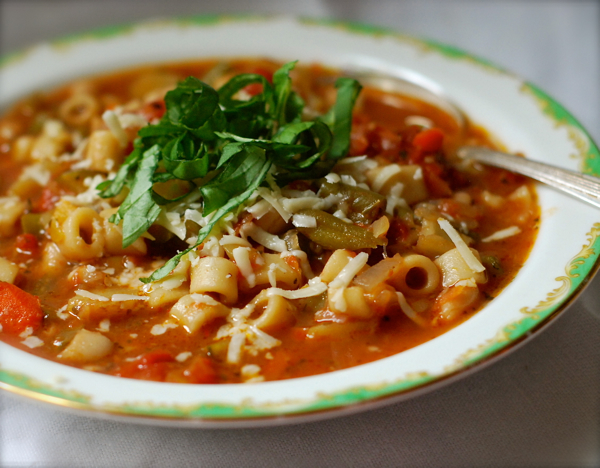 This is a wonderful, Italian soup that varies a bit, depending on what part of Italy you're visiting. I personally like the Ligurian version which is served with a big dollop of fresh basil or basil pesto on top.
I guess my version is still considered Italian-American because I add shredded cabbage to the pot, and always have. I add some red wine to mine too, which I don't believe is an Italian custom. Whatever the case, this soup is fresh, and healthy and beautiful. I even like it served cold (sort of like Italian gazpacho) in the summer.
~ serves 8 to 10 people ~
1/3 cup olive oil + more if needed
2 large yellow onions, quartered and cut into thin slices (3 cups)
1 Tablespoon sugar
4 large carrots, peeled and diced (about 2 cups)
2 stalks celery, diced (about 1 cup)
1 large potato, any type, unpeeled and diced (about 1 cup)
1/3 lb green beans, trimmed and diced (about 1 and 1/2 cups)
2 small zucchini, diced
4 large cloves fresh garlic, minced
2 cups shredded cabbage
2 large cans whole tomatoes + juice
4 cups beef or chicken stock/broth
1 cup red wine
2 teaspoons chopped, fresh rosemary
1 Tablespoon fresh thyme leaves
1/2 cup chopped, fresh basil
2 teaspoons sea salt (or to taste)
1 teaspoon freshly ground black pepper
1/2 teaspoon crushed red pepper flakes
2 (15 oz.) cans cannellini beans, drained and rinsed well
1 cup short, dried pasta (I use ditalini)
1 cup grated Parmigiano-Reggiano cheese (for garnish)
1/4 cup shredded basil leaves for garnish (or fresh basil pesto)
Heat olive oil in a large, heavy stock pot. Add onions and sugar. Stir well and cover. Cook over medium heat, stirring frequently, for approximately 20 minutes or until onions are tender and a light amber color. Watch the onions carefully as they cook so they don't burn to the bottom of the pot.
Add carrots, celery, potatoes and green beans. Cook for 10 minutes or until veggies are slightly tender. Add zucchini and cabbage, and cook for an additional 10 minutes. Add the garlic and cook an additional minute. Add the tomatoes plus the juice from the cans, crushing the tomatoes with your fingers as you add them to the pot. Add the stock, wine, herbs, salt and pepper. Stir well. Bring to a boil.
Transfer soup to a 8 quart slow cooker. Cover and turn on the LOW setting for 4 to 6 hours, or until all veggies are tender but not mushy. Add the cannellini beans during the last 30 minutes of cooking time.
When ready to serve: Cook pasta in boiling water according to package directions until al dente. Drain well and add pasta to soup. Adjust seasonings to your liking. Ladle into warmed soup bowls, add basil or pesto and Parmesan.
Enjoy!
~Melissa
You may enjoy these related posts: