Print Friendly Version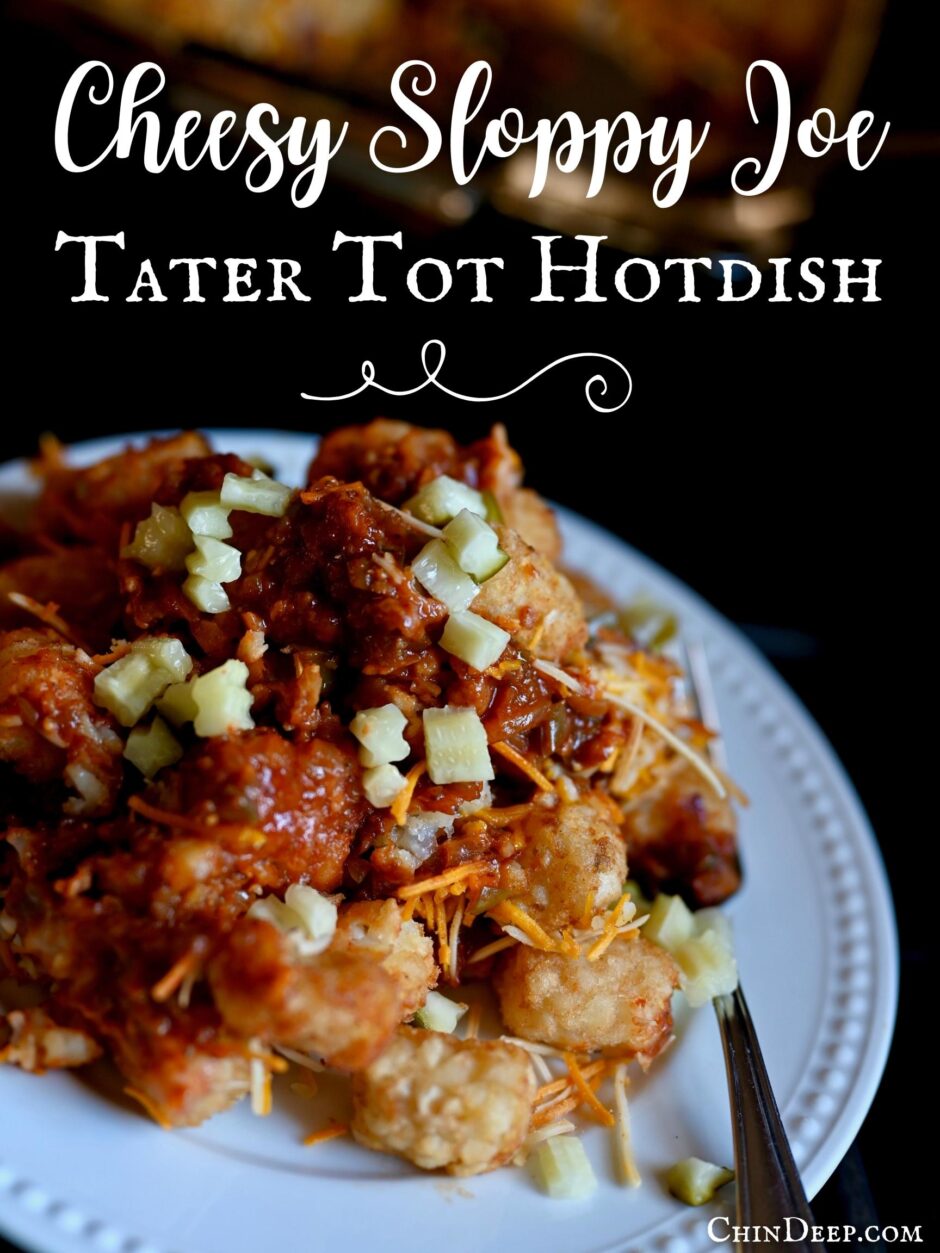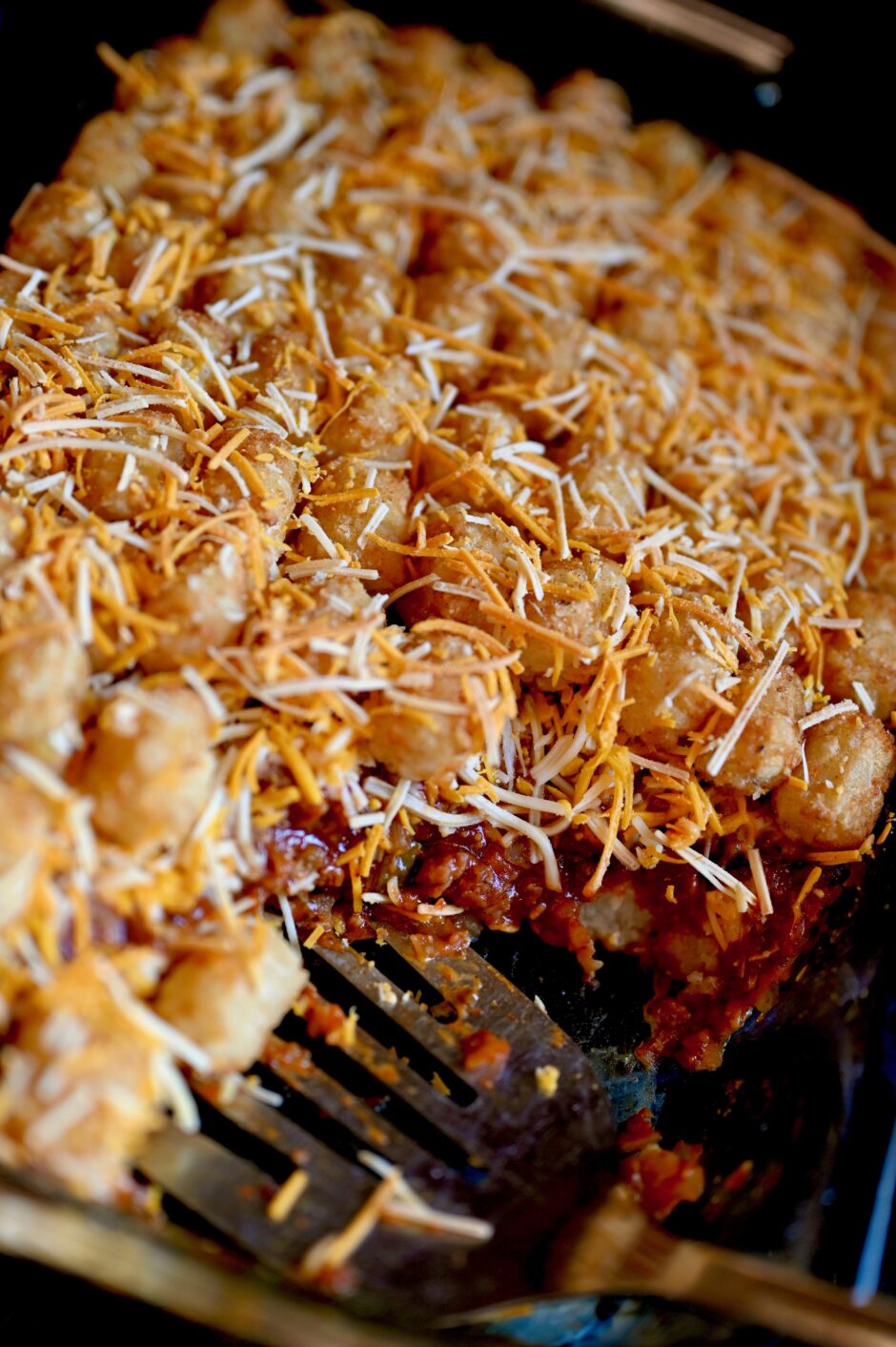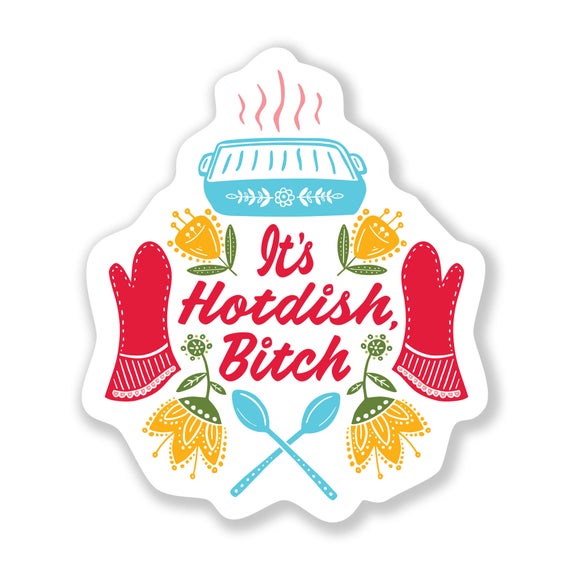 We take our hotdish very seriously here in Minnesota. Hotdish, not to be confused with casserole. I'm not sure where the ridiculous trend of calling food by the dish it's served in started, but I'm here to tell you that the hotdish, the stuff in the casserole pan, is what the food is actually called. Casserole? Who okayed this? 🙂 A casserole pan can serve any number of functions and carry any number of dishes. It can carry a main dish, a breakfast dish, a side, or even a dessert. A hotdish is always a main course. See what I mean? If you've been calling it casserole this whole time, I'm not mad at you, but now that you know it's time to get it right. For Peet's sake! (Say that in the best Minnesota accent you can muster. I've lived here my whole life and I don't sound anything like the characters on Fargo, but once in awhile the Minnesota slips out and someone calls me on it. hee hee…)
So HOTDISH. One word, not two, is what we're making today. And it's a twist on the classic Tater Tot Hotdish. This time I made it with sloppy joe filling and cheese! So good, and a nice change from the original. Especially if you're Minnesotan and make it all the time during the cold months.
This goes together quickly and makes a heavy, 9X13 pan of comfort food goodness. If you aren't feeding a big family, you might want to cut this recipe in half or you'll be eating hotdish all week. Not that that's a bad thing, but it does make a lot.
My version is vegan, but you can use ground beef and regular cheese, if you prefer. Those are the only ingredients I had to veganize. Everything else stays the same. If you've never tried Beyond beef, it's REALLY good. I'm not kidding. My husband, a carnist, prefers it and still talks about the best burger he's ever had, and it was vegan.
1 lb. Beyond meat, thawed
2 Tablespoons olive oil
1 and 1/4 cup chopped onion
1 and 1/4 cup chopped green pepper
2 large cloves garlic, minced
1 cup BBQ sauce
1/2 cup ketchup
1 Tablespoon prepared yellow mustard
1 Tablespoon vegan Worcestershire sauce (Wild Harvest makes a great one)
1 Tablespoon celery seed
2 teaspoons smoked paprika
1 teaspoon onion powder
1 teaspoon Lawry's seasoned salt
64 oz. frozen Tater Tots (I always get Ore-Ida brand)
8 oz. shredded vegan cheddar cheese (I used So Delicious Brand)
chopped dill pickles (for topping/garnish)
Fry up the thawed Beyond meat until it's about halfway done. Remove from skillet and transfer to a big mixing bowl. In the same skillet, without washing the pan, add the olive oil and heat it over a medium flame. Once hot, add the onion and green pepper. Saute until tender, translucent, and slightly golden. Add the garlic and cook an additional minute or so. Transfer to the same mixing bowl that the Beyond meat is in. Add the BBQ sauce, ketchup, mustard, Worcestershire sauce, celery seed, smoked paprika, and onion powder. Mix well.
Lightly grease a 9X13 baking dish. Line the bottom with frozen Tater Tots. Sprinkle half of the seasoned salt over the tots. Top with the sauce and smooth so it's a nice, even layer. Sprinkle half the shredded cheese over the BBQ meat sauce. Top with another layer of Tater Tots, sprinkle on the rest of the seasoned salt, and finally, top with the rest of the cheese.
Bake, uncovered, at 350 degrees F. for an hour (or until the casserole is piping hot all the way through, bubbly, and a deep golden brown on top.)
Serve casserole with some of the chopped pickles on top.
Enjoy!
~Melissa
You may enjoy these related posts: