Print Friendly Version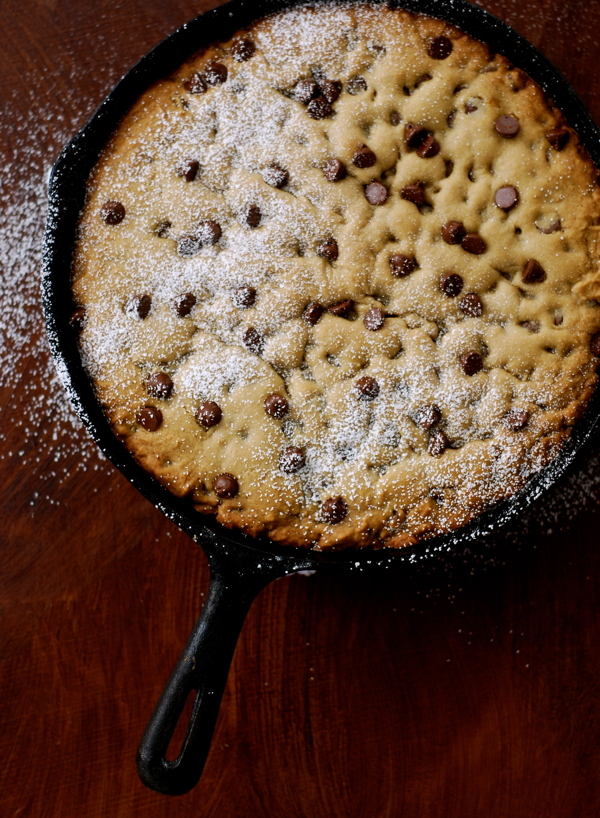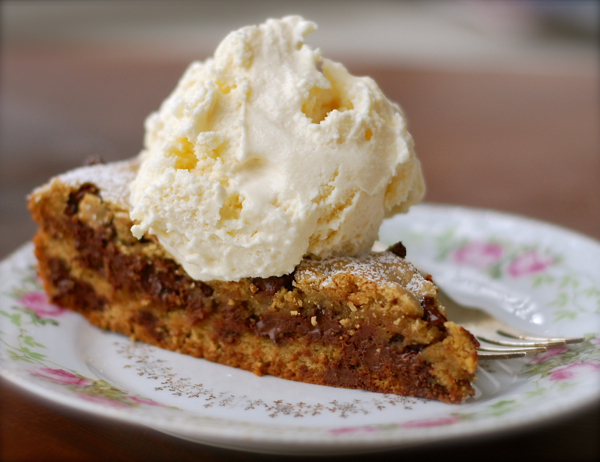 Are you ready to make a rustic, gorgeous, giant chocolate chip cookie in a skillet? This tastes quite different than regular chocolate chip cookies. It's thick and soft and gooey in the middle. Serve with a dollop of whipped cream or a scoop of your favorite vanilla ice cream. A drizzle of caramel sauce and/or hot fudge couldn't hurt either! Yummy!
~ serves 16 ~
~ preheat oven to 350 degrees F. ~
2 and 1/4 cups all-purpose flour
1 teaspoon baking soda
1/2 teaspoon sea salt
1/2 cup real, unsalted butter, softened
1 and 1/2 cups brown sugar
1 teaspoon vanilla extract
2 large eggs, lightly beaten
2 Tablespoons milk
1 and 1/2 cups semi-sweet or dark chocolate chips + more for top
Grease a 10 inch cast iron skillet with vegetable oil.
Place flour, soda and salt in a large bowl. Mix well.
In another bowl, cream butter and sugar until light and fluffy. Mix in vanilla, eggs and milk until smooth. Add wet ingredients to dry ingredients and mix well. Fold in chocolate chips.
Press cookie dough into an even layer in prepared skillet. Scatter a few more chocolate chips over the top. Bake in preheated oven for approximately 30 minutes, or until skookie is golden brown around the edges and set (but still very soft) in the middle.
Remove from oven and allow to cool for 20 minutes before cutting into 16 wedges and serving.
Possible variations: You can use a combination of white and dark chocolate chips for this, or butterscotch chips, if you like. Add 1/2 cup chopped walnuts or pecans. I've made this with a combination of dark chocolate and chopped, candied orange peel before and it was amazing! The possibilities are endless!
Enjoy!
~Melissa
You may enjoy these related posts: