Print Friendly Version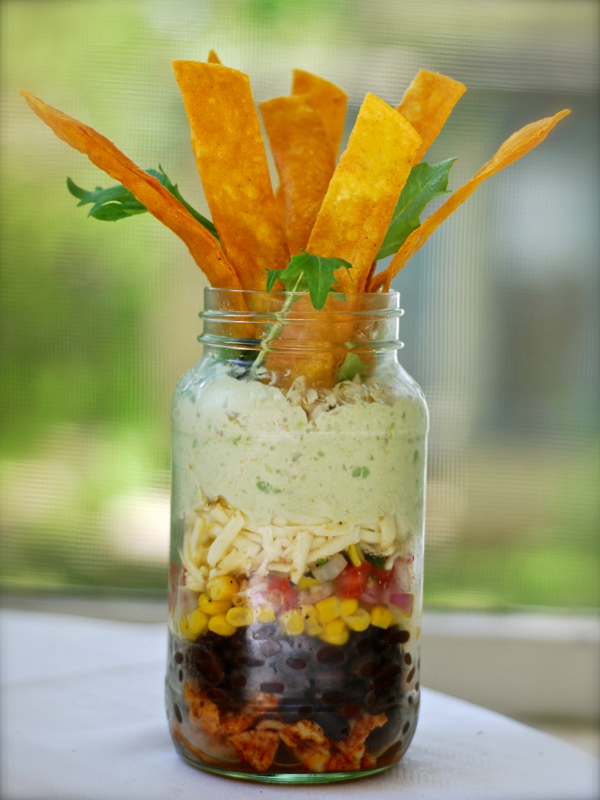 I'm on a Mason jar kick! Have you noticed? I'm inspired by these little containers and I can't seem to stop thinking up new recipes for them. SO so sooooo many ideas that I'll be sharing with you. Can't wait!
Here's the latest. It's a combination of two of my favorite salads. Cowboy Caviar and Taco Salad. I used lean chicken for the taco meat, but if you'd rather use shredded beef or pork, or your favorite ground meat, go right ahead. It was Jeff's idea to make a dramatic statement with the tortilla strips and I love it. Such a fun presentation for a dinner party on the deck.
For 2 mason jar salads, use 2 (25 oz.) Mason jars and stack in the following order:
 2 cups taco chicken, cooled (recipe below)
1 cup canned black beans (drained and rinsed very well)
1 cup canned corn (drained very well)
1 cup pico de gallo (recipe below)
1 cup shredded pepper jack cheese
1 batch guacamole (recipe below)
1/2 cup cooked, cold brown or white rice
handful of spring greens or shredded lettuce
store bought tortilla strips or homemade tortilla strips (recipe below)
for the taco chicken:
2 cups cooked chicken chunks
1 teaspoon Sriracha hot sauce
2 teaspoons olive oil
2 teaspoons chili powder
1 teaspoon cumin
1 teaspoon garlic powder
mix all ingredients together in a small bowl
for the pico:
1/4 cup purple onion, chopped
1 Roma tomato, seeded and chopped
1 small jalapeno pepper, chopped
3 Tablespoons fresh chopped cilantro
mix all ingredients together in a small bowl
for the guacamole:
1 ripe avocado, mashed until smooth
4 oz. sour cream
3 Tablespoons fresh lime juice
1/4 teaspoon chipotle powder
mix all ingredients together in a small bowl
for the tortilla strips:
4 small (taco size) corn tortillas
peanut oil
Place about 1 inch of peanut oil in the bottom of a cast iron Dutch oven and heat to 350 degrees F. (shimmering but not smoking.) Cut tortillas into strips using a pizza cutter. Fry strips in hot oil until golden brown. Remove to paper towel lined plates to cool.
To serve: stack ingredients in jars in order given and decorate the top with the tortilla strips. Each guest can remove the chips to a little plate and mix up their own salad. Use the salad as a dip for the chips, or crumble them into the salad as you go.
Enjoy!
~Melissa
You may enjoy these related posts: