Print Friendly Version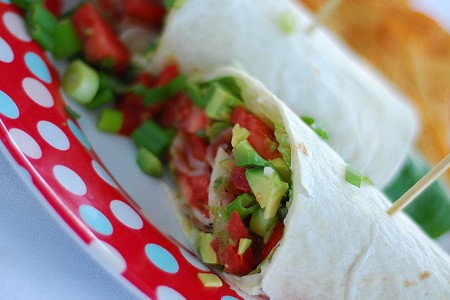 "Life expectancy would grow by leaps and bounds if green vegetables smelled as good as bacon." ~Doug Larson

A new twist on the classic BLT!
4 large 'wraps' or flour tortillas
1/4 cup real mayonnaise
4 large romaine lettuce leaves
2 avocados, chopped
thin slices of red or green onion
1 lb. good quality applewood smoked or pepper bacon, fried until just crispy
fresh Roma tomatoes or heirloom tomatoes, thinly sliced
salt and freshly ground pepper
Place sandwich wraps on 4 serving plates. Spread the mayo over the wraps, and flatten lettuce leaves over the mayo. Top with avocado chunks, onion slices, bacon strips, and tomato slices, salt and pepper. Wrap sandwiches as tightly and neatly as possible (this takes a little practice.) Cut wraps in half on the diagonal, and secure each half with a bamboo skewer or a toothpick. Serve with kettle chips (salt and vinegar is my favorite!)
Enjoy!
~Melissa
You may enjoy these related posts: