Print Friendly Version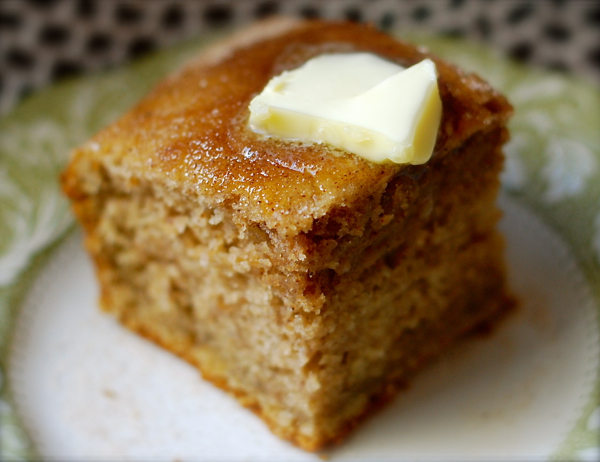 Oh my. This is one of those cakes that's not too sweet, super moist, and totally addictive. I like to serve it warm with a pat of butter and a sprinkle of cinnamon and sugar.
Amish Mayonnaise Applesauce Snack Cake would be a wonderful addition to breakfast, brunch, or tea. Because there's no frosting, it would work well as a lunchbox dessert too. Yum!
~ preheat oven to 350 degrees F. ~
1 cup sugar
1 cup real mayonnaise
1/2 cup 2% or whole milk
2 cups unsweetened applesauce
2 teaspoons pure vanilla extract
1 large egg, lightly beaten
3 cups all purpose flour, sifted
2 teaspoons baking soda
2 teaspoons cinnamon
1 teaspoon salt
1/2 teaspoon ginger
1/4 teaspoon cardamom
Butter a 9 x 13 glass cake pan and set aside.
In a large bowl, combine: sugar, mayonnaise, milk, applesauce, and vanilla until smooth. Mix in egg until just combined.
In a separate bowl, combine: flour, baking soda, spices, and salt. Add dry ingredients to the wet ingredients, 1 cup at a time, until combined. Don't over-stir or your cake will become tough. The batter will be somewhat thick.
Pour into prepared pan and bake until a wooden skewer or toothpick inserted into the center comes out with a few moist crumbs on it. (Approximately 35 to 40 minutes.) Allow cake to cool completely, and store in a sealed container or on a domed glass cake plate, for up to 3 days at room temperature.
When ready to serve, slice, warm a piece up a bit, and dab with a pat of butter. Sprinkle on a little cinnamon and sugar.
Enjoy!
~Melissa
You may enjoy these related posts: