Print Friendly Version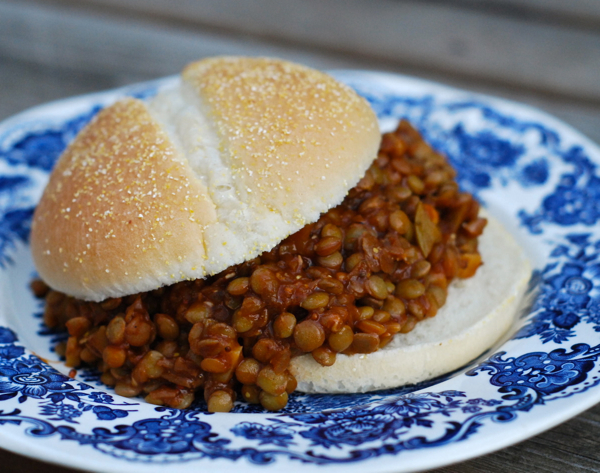 I love unique recipes for lentils and beans. About a week ago I was craving sloppy joes something fierce, and we didn't have any ground beef in the house. As I was looking through my cupboards trying to figure out what to make for dinner, I found a bag of lentils that I had purchased for soup. Then it hit me. Why not make lentil sloppy joes? So, I did, and they turned out amazing! This is a delicious, healthy, budget friendly dinner idea. The BBQ lentils will keep in an airtight container in your refrigerator for up to 5 days, so you can make up a big batch and enjoy them for a quick, filling lunch all week!
1 lb. lentils (any type)
1 bay leaf
2 teaspoons olive oil + 2 Tablespoons olive oil (divided)
1 teaspoon sea salt
3 large cloves garlic, minced
1 large onion, chopped
1 cup peeled potato, diced
1 small apple, diced
1/4 teaspoon to 1/2 teaspoon cayenne pepper
1/2 teaspoon ground ginger
1/2 teaspoon celery seed
3 cups sweet smoky BBQ sauce (use your favorite) or 2 cups BBQ + 1 cup ketchup
1 Tablespoon grainy Dijon mustard
2 Tablespoons balsamic vinegar
1 Tablespoon Worcestershire sauce
1 Tablespoon sriracha hot sauce
1 Tablespoon honey (if needed for added sweetness)
Rinse and sort lentils. Drain well. Bring lentils to boil in 6 cups of water with the 2 teaspoons olive oil, the sea salt and the bay leaf added to it. Simmer, uncovered, for 30 to 35 minutes or just until lentils are soft but still hold their shape. Salt to taste and set aside.
Meanwhile, heat the rest of the olive oil (2 Tablespoons) in a heavy skillet. Add the onion, potato and apple. Saute until golden and tender. Add garlic and cook an additional minute. Stir in the cayenne, ginger and celery seed and toss to coat the veggies/fruit. Mix the veggie mixture into the lentils. Add the BBQ sauce, Dijon, vinegar, Worcestershire sauce, hot sauce and gently stir until well combined. Taste and add the honey if needed. Adjust seasonings as you see fit. Simmer until hot all the way through and thickened to desired consistency. Serve over your favorite kind of buns or whole grain bread. Drizzle a little yellow mustard over the top, if you like.
Enjoy!
~Melissa
You may enjoy these related posts: