Print Friendly Version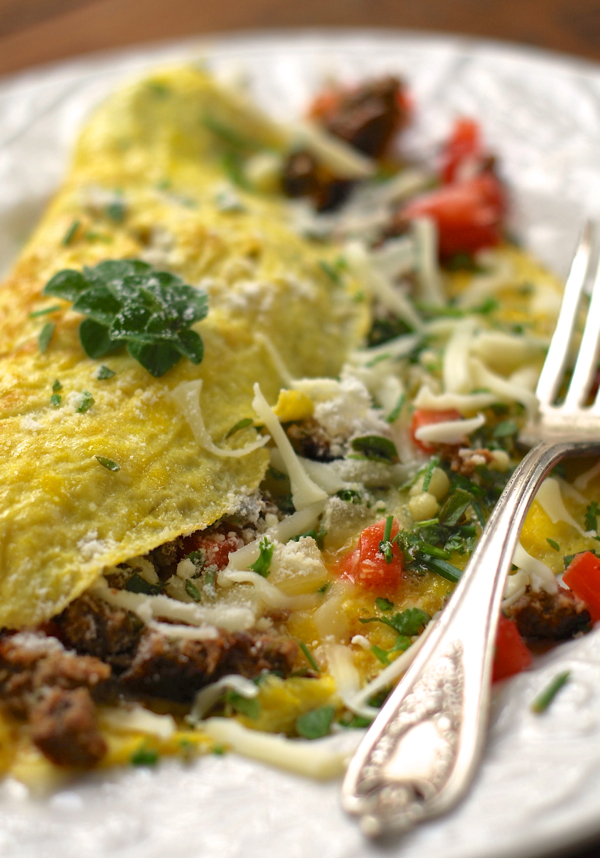 Starting the day with lean protein and lots of veggies is always a good idea. That's exactly why omelettes are one of my favorite breakfast choices. I use to be able to carb load in the morning, but not any more. I need my protein to stay feeling good throughout the day and so I'm not starving before the lunch hour rolls around.
I usually always make my omelettes using the same formula… I just vary the filling ingredients for interest and variety. This particular omelette recipe was born one morning when I had a bunch of Italian ingredients in the fridge from making pizzas and pasta the night before. Feel free to use whatever meat you have for your omelette, or just leave the meat out all together if you like. The eggs and cheese pack a big protein boost all by themselves.
Assemble all of your ingredients before you start so you're not running around the kitchen looking for ingredients while the omelette is cooking. Use two eggs for a single serving omelette or 4 eggs if you're making an omelette to share.
2 to 4 eggs
 fresh herbs (I used basil, hot & spicy oregano and chives)
  finely chopped onion (any variety)
 mozzarella cheese, grated
 lean meatballs, sausage or chicken cut into chunks and warmed a little
chopped, fresh mushrooms (optional)
1 Roma tomato, cut into chunks
fresh garlic, minced (or oven roasted, removed from skins)
 salt and pepper to taste
grated Parmesan, Oregano or Asiago cheese, to taste
Marinara sauce and/or extra virgin olive oil for drizzling
 2 teaspoons olive oil for the pan
Finely chop the herbs. Heat the olive oil in the skillet and roll it around in the bottom of the pan so the entire bottom is coated. Beat your eggs along with a Tablespoon of water for every two eggs used. Pour the eggs into the hot pan, shifting the pan around so the eggs evenly cover the bottom. Place the skillet back on the burner and adjust the heat to a medium temperature. When the eggs are almost done cooking (almost dry on top), sprinkle the filling ingredients evenly over the eggs. When the cheese is melted, fold omelette in half using a spatula. Transfer omelette to a serving plate and serve.
Garnish with the freshly grated Parmesan (or other hard, salty cheese) and a drizzle of marinara and/or olive oil over the top.
Enjoy!
~Melissa
You may enjoy these related posts: