Print Friendly Version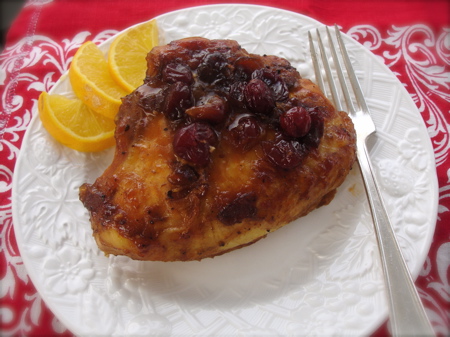 ~ cranberry chicken ~
"It's so beautifully arranged on the plate – you know someone's fingers have been all over it."  ~Julia Child
This time of year it's nice to have some easy recipes in your recipe box that are tried and true and that you know are wonderful. This particular recipe is loved by all and yummy with an easy tossed salad, rice pilaf or a baked potato. A little orange zest sprinkled over the top will brighten the flavor and make this dish sparkle.
1 fryer chicken
1 can whole cranberry sauce
1/2 cup French dressing
1 packet dry onion soup mix
Place the fryer chicken pieces in a 9 x 13 glass cake pan.  Combine cranberry sauce, dressing and soup mix. Pour evenly over chicken pieces. Season with a little fresh ground pepper. Bake at 350 degrees F. until chicken is completely cooked through and juices run clear. Plate and grate a little orange zest over the top.
Enjoy!
~Melissa
You may enjoy these related posts: