Print Friendly Version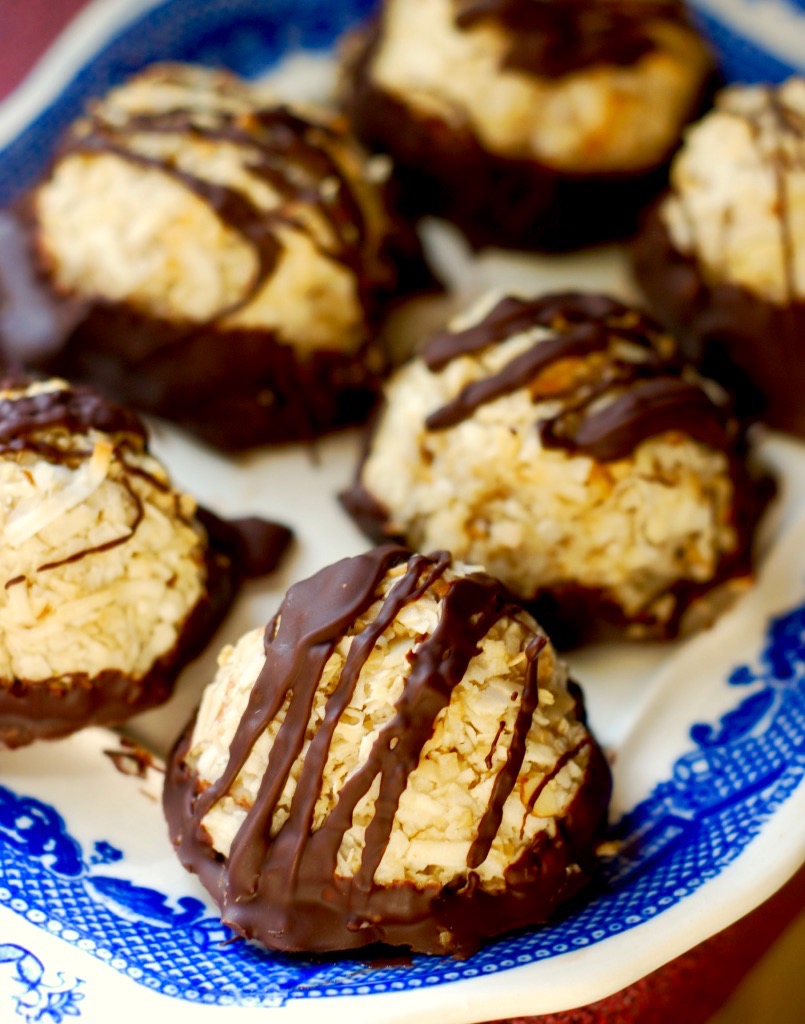 One way I know that one of my recipes is a keeper is if Jeff eats multiples of said item until they are gone. This was the case with these chocolate dipped macaroons. They are decadent and actually pretty healthy, which is always a good combination. I think one is plenty, but Jeff likes to eat 3 at a time.
So make a bunch. They will disappear in a flash.
Don't use sweetened coconut or they will be WAY too sweet. Trust me.
These are vegan, gluten free, and dairy free! Yay!
This recipe will yield 18 to 24 cookies. I made them a little bigger than golf balls and ended up with 18.
3 cups unsweetened shredded coconut
1 cup canned coconut milk (try to use mostly the creamy part and save the liquid for smoothies)
1/3 cup pure maple syrup
1/3 cup sliced almonds, crushed up a bit
1/3 cup oat flour
2 teaspoons pure vanilla extract or paste from one vanilla bean
1/4 teaspoon sea salt
10 oz. vegan chocolate chips (I used semi sweet)
Preheat oven to 350 degrees F.
In a medium mixing bowl, combine coconut, coconut milk, maple syrup, almonds, oat flour, vanilla, and salt. Mix well.
Scoop balls (approximately 3 Tablespoons each) into well-packed portions. Pack them tight. Place balls on parchment-lined cookie sheet approximately 1 inch apart.
Bake 20 to 30 minutes until golden brown. Rotate pan halfway through baking time so cookies bake evenly.
Remove from oven and cool completely before dipping into chocolate. Cookies may seem loose or like they are falling apart. If this happens you can pack them into tight balls again when they are cool enough. Don't worry. They will harden more as they cool.
Melt chocolate in microwave. I do this in 15 second bursts and stir between each session. Once cookies are completely cool, gently dip bottoms in the melted chocolate and place them back on the lined cookie sheet. Drizzle the rest of the chocolate over the tops (if you want to be fancy, you can do this with a squeeze bottle. I just used a spoon.)
Refrigerate until completely set.
Enjoy!
~Melissa
You may enjoy these related posts: