Print Friendly Version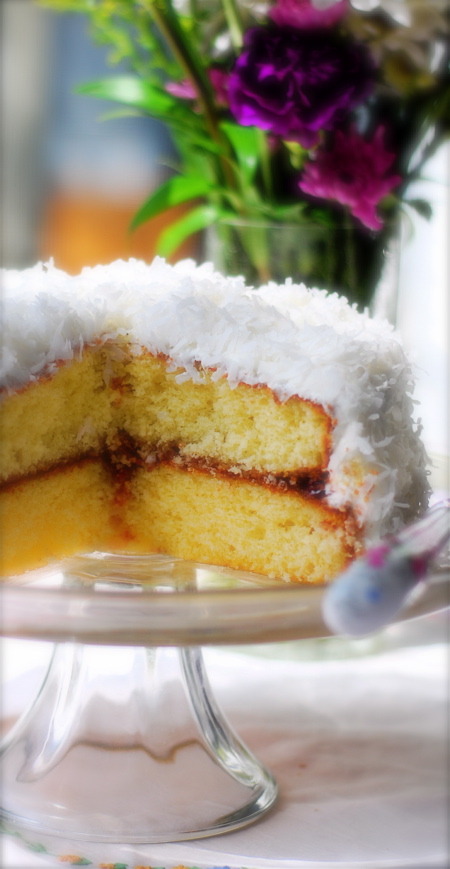 ~ coconut jam cake ~
I wanted to call this recipe "piece of cake" coconut jam victorian sandwich cake, but when I looked at the title all long and stretched out above the photograph I realized that it's sort of confusing and doesn't really convey the message that I'm trying to communicate…this cake is easy.
Soooo, I decided to just tell you. This cake is easy. There. Now that we have that out of the way…
I originally had all these lofty plans (per usual) to make my favorite "3 Day Coconut Cake," but as you may have guessed from the easy to understand title, it takes 3 days, and the next time I thought about it I only had one day to make the cake. So I took it down a notch and decided to make the Cake Mix Doctor's coconut cake. It's called "Last Minute Coconut Cake." Yeah, right. Last minute if you don't have to go to the store the DAY BEFORE EASTER to get the six ingredients your missing first. After reading her recipe I realized I didn't have everything it called for. So I made one up. As you may have gathered by now, this happens to me a LOT. I hardly ever go into the kitchen with the plan of inventing something, but out of necessity, I have gotten really good at it.
Anyhoo, here's my recipe for easy coconut jam cake. Don't laugh.
1 box white or yellow cake mix
eggs
possibly oil, depending on the cake mix
pineapple juice
coconut extract
1 jar premade frosting
flaked, sweetened coconut
raspberry jam
Mix up the cake according to package directions, using pineapple juice in place of the water called for…and replacing 1 Tablespoon of that liquid with a Tablespoon of coconut extract.
Bake according to, yup you guessed it, the package directions for a 2 layer cake.
Cool completely and slap some jam between the layers. This step is critical. If you forget to cool the cake completely, you're done. That cake will not stay together. Not even if you cry. Or swear. Which I did. Even worse, the cake will look like it's bleeding. Gross. Not very festive.
Frost with the frosting. Coat with flaked coconut.
Voila! Easy coconut jam cake.
😉
~Melissa
You may enjoy these related posts: