Print Friendly Version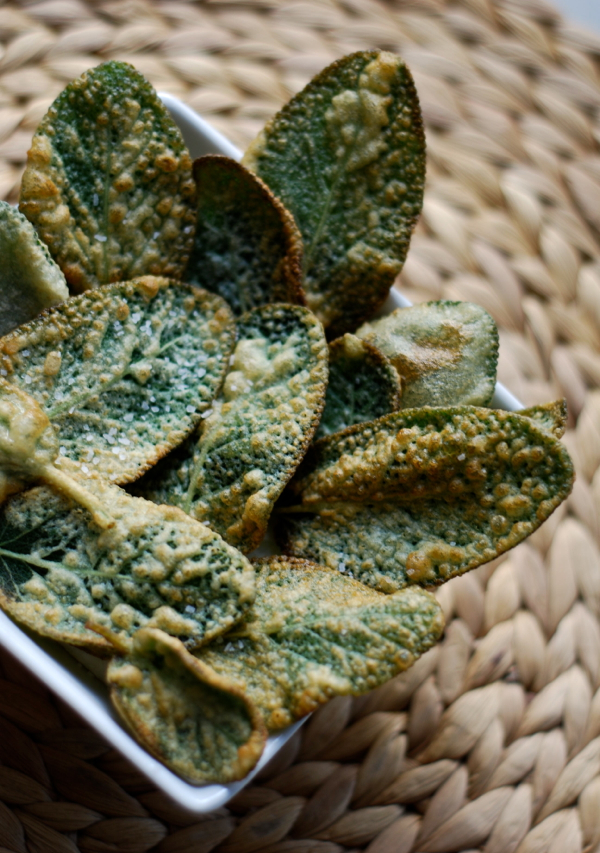 Hi there! How have you been? You may have noticed I've been only blogging sporadically these last couple weeks. With all of the Holiday activity it's been a bit of a challenge to create and photograph things for this space, but I'm looking forward to getting back on schedule again very soon. How have the holidays been treating you so far? I hope you made some lovely memories no matter how or what it is you're celebrating.
I looked at the calendar this morning and realized that it's Friday. I was kind of surprised. When Gracie is home from school on vacation, all of the days sort of melt together into one. I seem to lose track of the calendar and clock. Are you like that?
Anyhoo, it's Friday, and I thought that called for a yummy appetizer idea. Here's a pretty one that also works well as a garnish. It looks beautiful tossed on top of a salad or pizza, and it makes a humble chicken breast or steak look like a fancy meal.
makes 4 to 6 appetizer servings
1 cup all-purpose flour
1/2 teaspoon sea salt
1 cup seltzer water
1 large egg, beaten lightly
vegetable oil for frying
30 large, fresh sage leaves (stems still attached)
Mix flour, salt and seltzer. Stir until smooth. Add egg and whisk until evenly incorporated. Set aside. Heat approximately 1/2 inch vegetable oil in a large, heavy-bottomed, skillet. (It's ready when a little of the batter sizzles immediately upon contact.)
Holding sage leaves by their stems, dip them, one at a time in the batter until lightly coated. Drop them in the hot oil. Work in batches, and take care not to crowd the pan. Fry until golden brown (1 to 2 minutes per side.) Remove to paper-towel lined plate and sprinkle with some coarse sea salt. Serve immediately as an appetizer or garnish.
Enjoy!
~Melissa
You may enjoy these related posts: