Print Friendly Version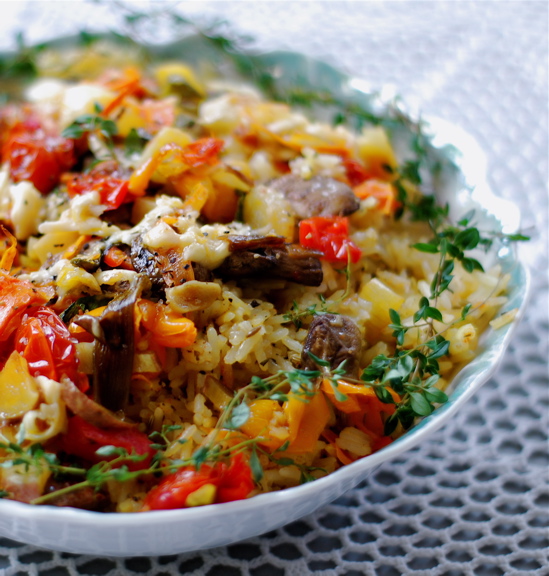 We just returned from a beautiful riverside picnic. Can't wait to tell you more about that tomorrow for my six senses post.
Tonight is the blue moon, so we'll be outside on the deck photographing…sipping blue moon wine, looking at the Sky Walk app for the iPad and gazing up at the sky.
I am just so happy to be feeling well again. I was 'under the weather' for about three weeks, and when you aren't EVER sick, that is a looooong time. especially in the summer. yuck.
Anyhoo…here's a quick, easy, recipe for a beautiful rice medley to serve with anything grilled… especially lovely with fresh grilled shellfish or scallops! So many veggies in this pretty little dish, you don't really need a salad, but I always like to serve a crunchy, cold salad for contrast and texture…and, well, vitamins and fiber and all that 😉
3 cups hot, cooked rice (your favorite variety)
2 large carrots, shaved with a carrot peeler
2 cups chopped, sweet bell pepper in a variety of colors
2 cups fresh mushrooms
6 spring onions, coarse chopped
1 and 1/2 cups grape tomatoes
1/4 cup extra virgin olive oil
salt and pepper to taste
1 Tablespoon fennel seeds
1 teaspoon smoked or regular paprika
1 teaspoon onion powder
1/2 teaspoon garlic powder
1/2 teaspoon curry powder
thyme for garnish
Cook or steam rice according to package directions. Cover and set aside to keep warm. Place all veggies in a large mixing bowl. Toss with salt, pepper, and oil. Spread out evenly on a large baking sheet and bake at 350 for 30-45 minutes or until slightly caramelized and fragrant.
When ready to serve, toss the rice with some butter or olive oil and the fennel, paprika, onion powder, garlic powder and curry. Pour into a big, pretty serving bowl. Top with the oven roasted veggies, and garnish with fresh thyme sprigs.
Enjoy!
~Melissa
You may enjoy these related posts: