Print Friendly Version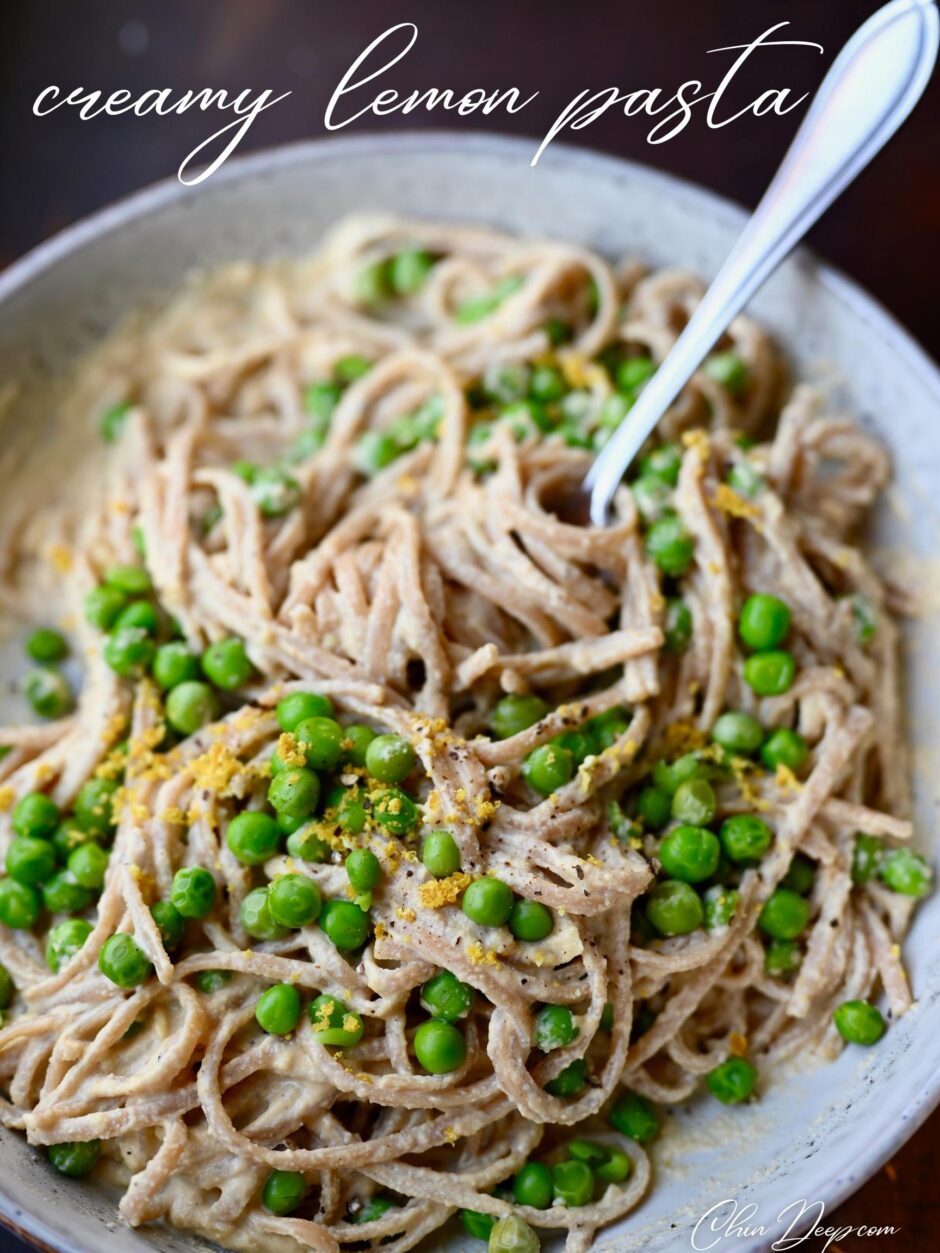 So what if I told you that you could indulge in creamy, lemony pasta with zero guilt? Well, you can. There are a few ways to tailor this recipe so you won't have to worry about "bad" carbs or "bad" fats. It's true.
The way I like to make this for myself is to use whole wheat linguine. If you either don't eat wheat pasta because of diet restrictions, allergies, or sensitivity to wheat, you can use bean pasta. Have you ever heard of it? Barilla makes one that I love. Try the lentil rotini. Trust me, you won't be sorry, and you'll get full on about half of what you may be used to eating because of the high protein content. You'll feel like you're eating pasta, but you really aren't. There's one ingredient in bean pasta. Beans.
So, now that we got the pasta talk out of the way, let's talk cream sauce. Creamy sauce is bad, right? Bad for cholesterol (and therefore bad for your heart), bad for your waistline. Let's face it cream is pretty evil. But… what if you made your cream out of cashews? What? I know it might sound kind of nuts (no pun intended. Okay, maybe a little intended.) But it's true. It's possible to make a healthy, decadent, creamy sauce using cashews and a few other ingredients. Depending on what you add to the cashews, you can change the entire flavor profile. How? It's actually really easy. Follow THIS link and make yourself some cashew cream, and then come back and make this pasta.
~ serves approximately 6 people ~
12 oz. whole wheat linguine (or pasta of your choosing)
1 cup (plus a little more, to taste if needed) cashew cream
1 large clove garlic, minced (raw or sauteed)
plant milk to thin to desired consistency (I use plain, unsweetened soy milk)
juice and zest of one lemon (plus more zest for garnish)
nutritional yeast, salt, and pepper (to taste)
your favorite steamed veggies for topping (I love peas and chopped tomatoes with this!)
red pepper flakes (optional)
Make the pasta according to package directions for al dente pasta. Drain well. Cover and set aside.
Combine approximately 1 cup of your already prepared cashew cream with the garlic, lemon juice, lemon zest, nutritional yeast, salt, and pepper. Taste and adjust seasonings. Add just enough plant milk to create a sauce that is the same thickness as a basic alfredo sauce. Once your sauce tastes the way you like it, cover it and set it aside.
Steam your favorite veggies just until firm/tender.
To serve: Heat up your sauce a little, if needed. Mix the pasta with the sauce, add more if needed so all of the noodles are generously coated.
Top with veggies or serve them on the side. Garnish with a little more lemon zest and some red pepper flakes or freshly ground black pepper.
Enjoy!
~Melissa
You may enjoy these related posts: