Print Friendly Version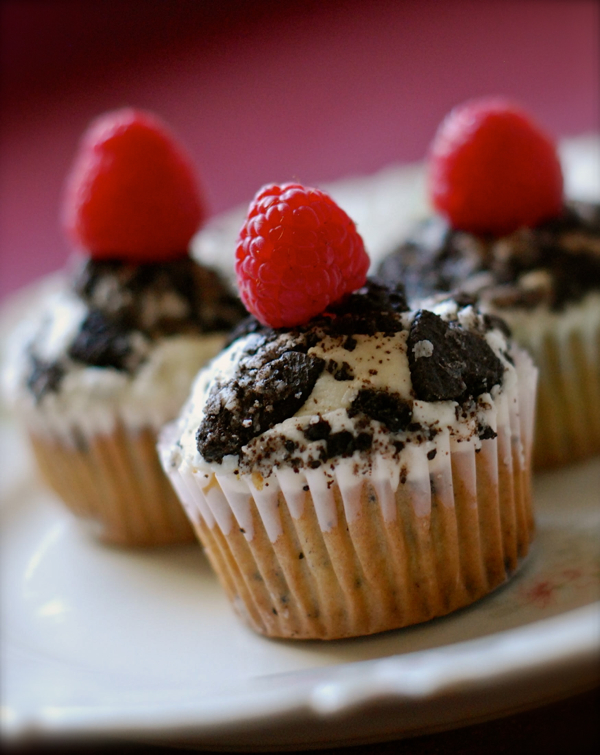 My daughter Grace made up a batch of these in her Intro to Culinary Arts class. They're delicious and so easy to prepare! The cream cheese frosting is perfect on these little confections.
for the cupcakes:
~ preheat oven to 350 degrees F. ~
1 boxed white cake mix
3 large eggs
1/2 cup real butter, melted
1 cup water
1 package Oreo cookies, divided
Line muffin or cupcake pans with 24 cupcake papers. Split 24 Oreo cookies into halves leaving the cream on one side. Break the cookie sides without cream into small pieces and set aside. Place the cookie sides with cream into the cupcake liner papers (cream side up.)
In a large mixing bowl, add cake mix, eggs, melted butter and water. Using an electric mixer, mix on low for one minute, until ingredients are combined. Then, switch the mixer to high speed and mix an additional minute, or until batter is thick and creamy. Fold crushed Oreo cookie pieces into cupcake batter. Spoon cupcake batter into liners on top of the Oreo halves. Bake for 20 minutes at 350 degrees F. Remove from oven and cool completely before frosting.
~ for the cream cheese frosting ~
10 Tablespoons real butter, firm but not cold
10 oz. cream cheese, cold
2 and 1/2 Tablespoons sour cream
1/2 teaspoon vanilla extract
5 cups powdered sugar
remaining Oreos for topping/garnish
fresh raspberries for garnish
Crunch up remaining cookies and set aside.
In a large mixing bowl, mix butter and cream cheese together on medium speed, using an electric mixer. Whip until fluffy (for approximately one minute.) Mix in sour cream and vanilla extract. Add powdered sugar, a cup at a time, and mix until smooth (approximately three minutes.)
Once cupcakes have cooled completely, frost with cream cheese frosting. Before frosting hardens, sprinkle the crushed cookies over the tops of the cupcakes. Garnish with fresh raspberries. Serve.
Enjoy!
~Gracie and Melissa
You may enjoy these related posts: