Print Friendly Version
Dear Husband,
The other night you walked up to the corner market with me to buy ingredients for Pasta Puttanesca. You carried the heavy bags home like a true gentleman. You talked to me, poured wine, and made me laugh while I cooked…and as usual you took beautiful pictures for me so I could record our experience on my blog and in the scrapbook at a later date. You make our date nights so special. I love you!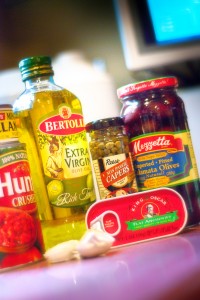 Some of the ingredients for the aphrodisiac dish…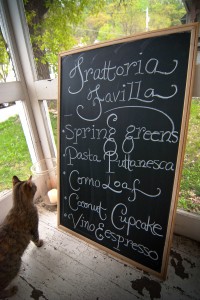 Trattoria Favilla

My grandma Darling's maiden name is Favilla. She's a real Italian lady! She makes spaghetti sauce that would knock your socks off! I thought it would be fun to pretend we were in Favilla Italy (an actual place in Italy where I am in some way or another related to all of the residents. Can't wait to visit some day.) I also thought it would be fun to write our menu on our Trattoria board and put it on the porch so we could imagine ourselves at a little restaurant in Italy!
Our kitty cat Alice checks the menu…mmmmm…fish pasta! She approves!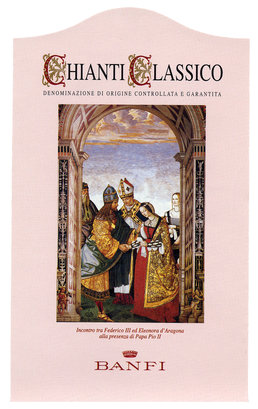 The Wine

Of course we had to have genuine Italian Chianti with our meal. This one is particularly good with bold flavors of black currant, violets, Bing cherries and leather. Perfect with pasta and red sauce or grilled beef.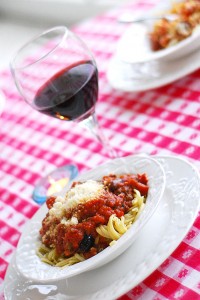 Pasta Puttanesca!
4 Tablespoons extra virgin olive oil
1 Tablespoon real butter

5 garlic cloves, minced
2 cans clams, drained
2 cans flat anchovies, drained
1/2 teaspoon crushed red pepper flakes
20 Kalamata olives
1 (3.5 oz) jar capers
1 (32 oz) can Muir Glenn fire roasted tomatoes, diced
a splash of chianti

freshly ground black pepper
1/4 cup fresh Italian parsley, chopped
1/4 cup fresh basil, chopped
1 onion, chopped fine
1 jar marinated artichoke hearts
5 large portobello mushrooms
In a large, heavy skillet, over medium heat, add 2 of the Tablespoons of olive oil, garlic, anchovies and crushed pepper. Saute mixture until anchovies melt into the oil and completely dissolve, and garlic is tender. (About 3 minutes) Add olives, capers, tomatoes, black pepper, parsley, and basil. Bring sauce to a low boil. Reduce heat and simmer for 8-10 minutes.
In a separate skillet, heat the other 2 Tablespoons of olive oil. Saute the finely chopped onion until golden. Add the butter and heat until melted. Add the chopped Portobellos, and heat until slightly golden and tender. Add the artichoke hearts and clams and heat through. Combine the onion mixture with the tomato mixture and toss with linguini that has been cooked until 'al dente.' Serve with Parmigiano Reggiano and crusty Italian bread and butter.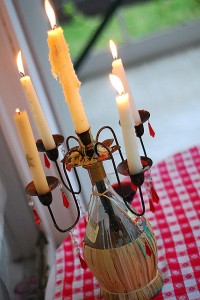 Don't forget the romantic candle light!
How do you celebrate your marriage or significant relationship? What do you do on date night?
XO
~Melissa

You may enjoy these related posts: