Print Friendly Version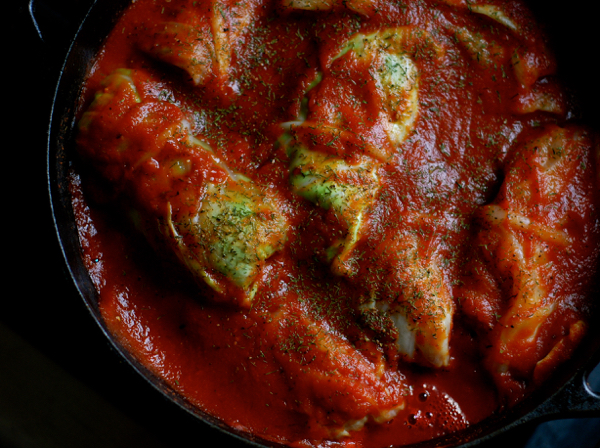 Mmmmmm. Love this sort of delicious comfort food on a cold winter day. I made a big pot of garlic mashed potatoes to go with these yummy cabbage rolls and everyone loved them. I make mine with extra sauce so there's plenty to use as gravy on those potatoes. They're actually quite easy and fast to prepare. I hope you love these cabbage rolls as much as I do.
for the sauce:
2 (28 oz) cans tomato sauce
1/4 cup tomato paste
1 cup vegetable broth
2 Tablespoons vegan butter
1/4 cup brown sugar
1 Tablespoon onion powder
1 teaspoon garlic powder
2 teaspoons dill
1/4 teaspoon nutmeg
for the rolls:
1 big head green cabbage (12 leaves)
13. 7 oz. package vegan "beefy" crumbles (I use Gardein)
1 Tablespoon olive oil
1 heaping cup cooked brown basmati rice
1 small onion, chopped
2 teaspoons dill
1/4 teaspoon nutmeg
salt and pepper, to taste
Mix sauce ingredients and bring to gentle boil. Reduce to a low simmer. Cover pot with lid slightly askew and simmer for 30 minutes. Remove from heat and set aside 1 cup of the sauce to bind filling ingredients together.
Carefully remove core from cabbage and discard. Par boil cabbage in boiling water until leaves are pliable, but still crisp (approximately 5 minutes.) Drain and pat dry. Carefully remove leaves and place them on paper towels so they can drain.
Saute onion in olive oil. Once lightly golden and translucent, add Gardein crumbles. Add rice, all seasonings, and 1 cup of the cabbage roll sauce. Cook just until crumbles are thawed (about 5 minutes.) Remove from heat, cover, and set aside.
Put a layer of the sauce at the bottom of a Dutch oven or heavy-bottomed soup pot. Pat each cabbage leaf dry and fill each one with 1/4 cup of the cabbage roll filling. Place filling at bottom of each leaf. Roll up, folding in sides. Place, seam side down, in the pot. Top with a layer of sauce. Repeat until you've used all the filling. Once all of the rolls are in the pot. Cover them using the rest of the sauce. Bring sauce to boil, and then reduce to a low simmer. Cover pot and cook for approximately one hour or until cabbage is translucent and filling is hot all the way through each roll.
Enjoy!
~ Melissa

You may enjoy these related posts: