Print Friendly Version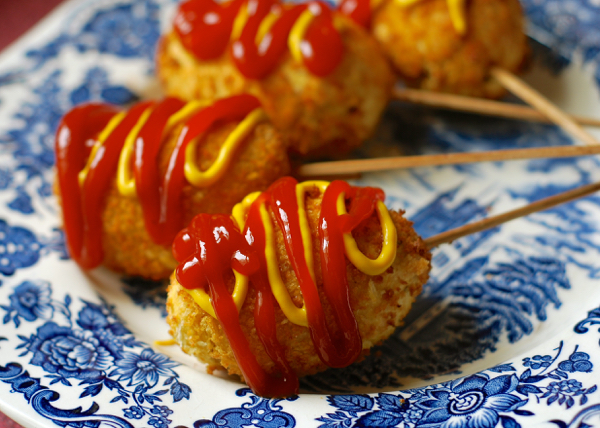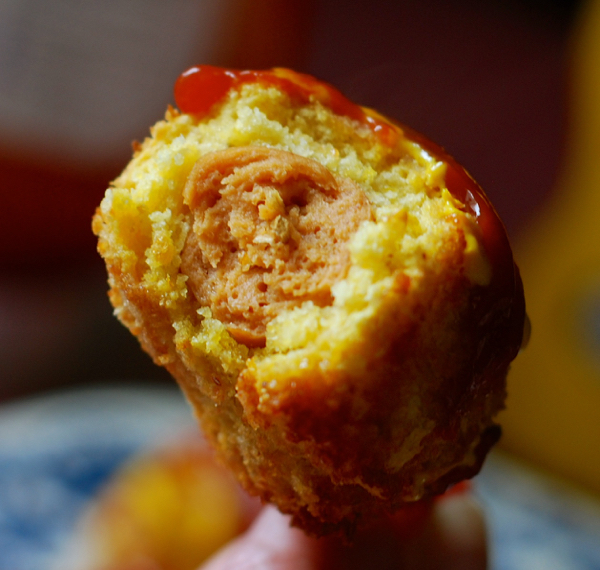 Have you ever made corn dogs? They're usually greasy and kind of a hassle to prepare. I decided to give them a whirl in the air fryer and they were not only delicious, they're super easy to make, and a batch of eight mini corn dogs only calls for 1 Tablespoon of oil! I made some for lunch today and it only took about a half hour from start to finish. (24 minutes of that was air fry time.) So, yeah, they go together in a flash. Such a fun idea for a party, or a quick lunch!
4 vegan hot dogs, halved (I used Litelife)
1/2 cup yellow cornmeal
1/2 cup all purpose flour
2 Tablespoons sugar
1 teaspoon salt
1/2 teaspoon baking powder
1/3 cup unsweetened, plain almond milk
3 Tablespoons apple sauce or pureed butternut squash
1 Tablespoon lite olive oil or vegetable oil
1/3 cup panko bread crumbs

mustard and ketchup for serving
Using short bamboo skewers, skewer each of the eight hot dog halves. Careful not to push the skewer all the way through the top of the hot dogs.
In a medium mixing bowl, combine the cornmeal, flour, sugar, salt, and baking powder.
In a separate bowl, combine the almond milk and applesauce (or squash.) Add the wet ingredients to the dry and mix well to create a somewhat sticky dough.
Divide the dough into eight equal portions. Moisten hands with a little water, and mold each portion of the dough onto the hot dogs so each hot dog is covered completely. Once this is done, lightly brush each corn dog with oil on all sides. Gently roll them in the panko.
Place 4 of the corn dogs in the basket of an air fryer. Air fry on 375 for 12 minutes, flipping the corn dogs half way through cooking process. Repeat with the last 4 corn dogs. Plate and serve immediately with mustard and ketchup.
Enjoy!
~ Melissa

You may enjoy these related posts: