Print Friendly Version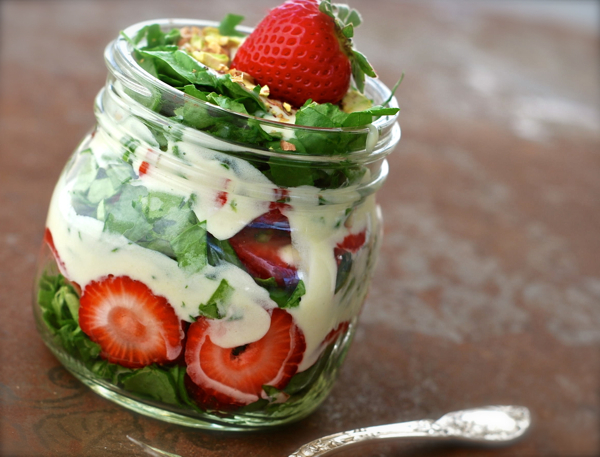 I'm so happy that spring has come early to Minnesota and that it seems to be here to stay. I'm so ready for the mild weather, longer days, morning tea on our front porch, dinner parties and date nights on our deck at our new umbrella table, weekend morning jaunts to the farmer's market, shorts, skirts, sandals, flowy white fabric blouses, hanging lavender-scented linens on the clothesline, grilled fare, my rose and herb garden…. and, of course, bright pretty salads.
Here's something I came up with this past week when I was ravenous and trying to figure out what to make for a quick lunch. Oh my gosh, this salad is pure heaven!
These little salad parfaits would be beautiful for a garden party or picnic. You could certainly add chopped up, chilled, grilled chicken chunks to them to make them more substantial, or leave out the meat and serve them as the first course to a more elaborate meal.
The dressing for these is sooooo ridiculously good! And only 3 simple ingredients! Sometimes I invent my best recipes when I'm in a hurry. Yay!
for the Garden Party Salad Dressing:
1/2 cup plain greek yogurt (or more)
1/4 cup honey
1/4 cup extra virgin olive oil
Combine all dressing ingredients in a medium mixing bowl. Stir with a wire whisk until smooth and creamy. If you'd like the dressing to be a bit thicker, add a little more yogurt until it reaches the desired consistency. This will make enough dressing to top 4 of the jar salad parfaits.
for 4 jar salad parfaits:
4 pint size wide mouth canning jars (clean and very dry)
4 cups chopped, fresh spinach
4 cups chopped or sliced, fresh strawberries
1 recipe Garden Party Salad Dressing (above)
salt and pepper, to taste
1/2 cup chopped pistachios
4 small, whole strawberries
Divide the spinach into 4 portions. Put 1/3 of each portion in the bottom of each jar. Do the same with the strawberries, and then the dressing. Sprinkle in a little salt and pepper. Repeat layers in jars two more times, ending with a dressing layer. Sprinkle 2 Tablespoons chopped pistachios on top of each jar salad parfait. Salt and pepper again (sparingly.) Put a pretty, fresh strawberry on top of each salad and serve. These salads will keep in the fridge, covered, for up to 5 hours.
Enjoy!
~Melissa
You may enjoy these related posts: