Print Friendly Version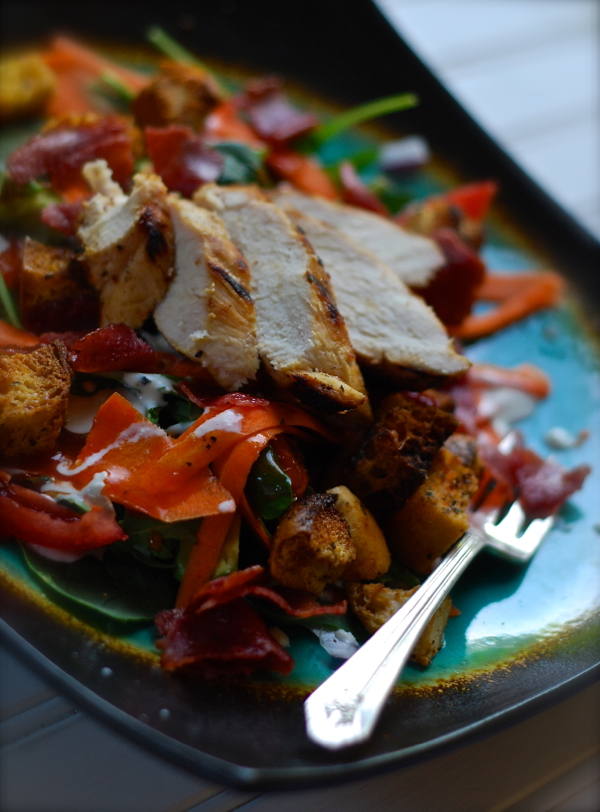 Good afternoon! We just returned home from a lovely day in the cities with my Father in law. A yummy lunch, a little wine, and lots of great conversation. He always makes me laugh.
When we got home I checked the mail box and was SO SO SO happy to discover the July/August issue of TeaTime Magazine! My article all published and real so I can touch it! This magazine and the March/April issue represent my entire 2012 summer. What a TON of work…but so darn worth it now that I can hold it in my hands. Definitely some celebrating happening in my house this weekend 😉 eeeeeeeeeeeeeeeeeee!!!! I promise I'll do a whole blog post about this within the next week (including photos!)
Now we're headed out to the deck to enjoy dinner. I made ricotta gnocchi with classic Caesar salad (topped with my homemade creamy Caesar dressing) and fresh lemon Italian ice for dessert.
Here's a yummy, easy recipe for grilled chicken that I thought I'd pass on to you. The "21 Spice Salute" from Trader Joe's is a new spice cabinet staple in our kitchen. The stuff is AMAZING! You can dress up this chicken however you like… We cut it into strips and served  it over a simple, icy cold tossed salad (spring greens, fresh herbs, carrot ribbons, tomato chunks, yellow bell pepper chunks, a little crumbled bacon and homemade croutons) …topped with the Lowell Inn's House Salad Dressing and Homemade Creamy Blue Cheese Dressing….mmmmmmm!
for the marinade:
1 cup riesling wine
1/3 cup olive oil
2 Tablespoons Trader Joe's "21 spice Salute" seasoning
2 Tablespoons fresh lemon juice
2 Tablespoons sugar
2 teaspoons freshly ground black or pink peppercorns
1 teaspoon smoky, black sea salt
Place 4 fresh or thawed boneless skinless chicken breasts in a heavy duty Ziploc bag. Mix up all of the marinade ingredients with a wire whisk. Pour the marinade over the chicken in the bag. Remove as much air as possible before sealing bag. Squish the marinade around the chicken. Place chicken bag in a bowl and refrigerate for 2 to 24 hours. Grill over charcoal until just done and juices run clear.
Enjoy!
XO,
~Melissa
You may enjoy these related posts: