Print Friendly Version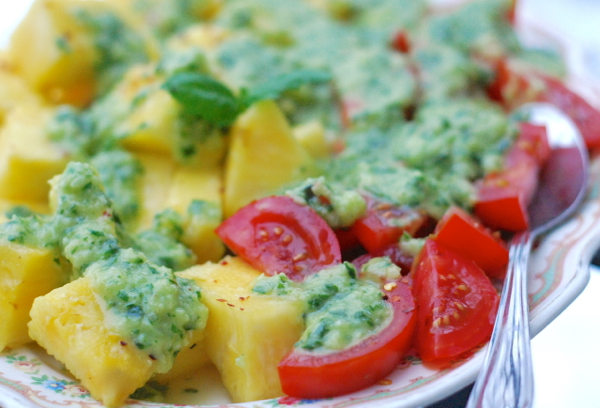 I used to only eat tomatoes when they were in season, and I still stick with that rule. Mostly. This salad is an exception. There are some varieties of tomatoes that seem to do pretty well, even in the winter months and are sooooo much better when made into this salad. The acidity from the cider vinegar, the freshness of the basil leaves, and the sweetness of the pineapple create a surprisingly amazing combination of flavors. Not all tomatoes can be redeemed, however. Look for deep red, mostly firm tomatoes. You don't want them to be hard, but you don't want mushy either… If you've ever felt a perfectly ripe Roma tomato before, that's what you're looking for. I've found most types of grape tomatoes and cherry tomatoes are good all winter long… and this time I happened upon some Campari vine tomatoes that were delicious!
Try this salad and see for yourself! I served it to my family last night and it was demolished very quickly. Even my grand girls couldn't seem to get enough of it.
8 Campari vine tomatoes, washed and cut into wedges (or 20 cherry/grape tomatoes, halved)
1 whole, fresh, ripe, pineapple, peeled, cored and cut into chunks
1 handful fresh basil, washed
1/4 cup extra virgin olive oil
1 Tablespoon apple cider vinegar
1/4 cup chopped scallions, or sweet Maui onions
1/2 teaspoon sea salt
1/2 teaspoon crushed red pepper flakes
Place tomato slices and all but 1/4 cup of the pineapple chunks on a pretty serving platter.
Put the 1/4 cup pineapple, basil, olive oil, cider vinegar, onions and salt in the bowl of a blender or food processor and pulse until smooth. Pour dressing over the tomatoes and pineapple on the platter. Sprinkle the red pepper flakes over everything. Serve immediately.
Enjoy!
~Melissa
You may enjoy these related posts: