Print Friendly Version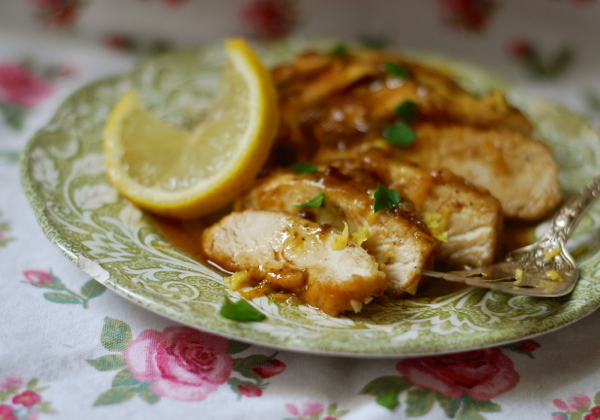 This was so delicious and it made the perfect, easy, Sunday night dinner. It all came together in about 30 minutes, and was delicious with baked Yukon Gold potatoes and a simple, spring greens salad topped with homemade balsamic vinaigrette.
~ preheat oven to 350 degrees F. ~
4 large chicken breasts, split horizontally
1 cup all purpose flour
2 heaping teaspoons smoked paprika
1 teaspoon onion powder
1 teaspoon sea salt
1 teaspoon freshly ground black pepper
*2 Tablespoons olive oil
*2 Tablespoons unsalted butter, melted
3 large lemons, juiced
zest of 1 large lemon
1/2 cup brown sugar
lemon slices and fresh, chopped parsley (garnish)
Carefully split chicken breasts horizontally, using a very sharp knife.
In a shallow bowl, combine: flour, smoked paprika, onion powder, salt and pepper. Dredge chicken breast halves in the flour mixture and place in a single layer on a plate.
Heat the olive oil and butter in a large, heavy skillet until hot, but not smoking. Place chicken breast halves (2 at a time) in the hot oil/butter. Adjust heat so the chicken gets lightly browned within 4 minutes (2 minutes per side.) Place the browned chicken breasts in a 9×13, glass baking dish, in one layer. Repeat with the rest of the chicken until it's all browned and in the pan. *You may need to add a little more oil/butter to the pan.
Deglaze the skillet with the lemon juice. Scrape up any brown bits from bottom of pan. Pour this mixture evenly over the chicken in the baking pan. Sprinkle the brown sugar and lemon zest evenly over the top of the chicken. Bake, uncovered, for 30 minutes or until a meat thermometer reads 165 degrees F.
Plate and top with the brown sugar and lemon sauce from the pan. Garnish with lemon slices and chopped parsley.
Enjoy!
~Melissa
You may enjoy these related posts: