Print Friendly Version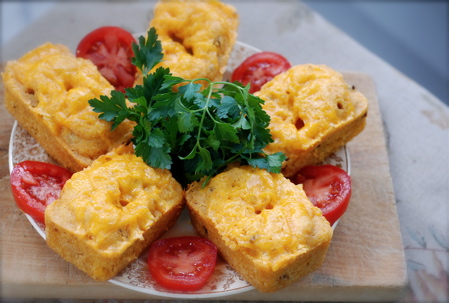 ~ mini cheddar bacon brunch loaves ~
This is a week of leisurely breakfasts, morning walks, swimming at the indoor pool, going out to lunch, and evening bike rides in Colvill Park. We've been having so much fun just reconnecting as a family, dreaming about summer, and making plans. I love these little family "staycations" we take a few times a year. What do you enjoy doing while on Staycation?
Here's a wonderful recipe for mini brunch loaves that taste great fresh or reheated. Perfect for "staycation" when you want a fancy breakfast without the hassle.  We love these with a little jam on them and paired with coddled eggs and a cup of French press.
1 cup all-purpose flour
1 cup cornmeal
2 Tablespoons sugar
1 teaspoon smoked paprika
1 teaspoon onion powder
2 teaspoons baking powder
1 teaspoon baking soda
1/2 teaspoon salt
1 and 1/4 cups buttermilk
1 large egg
4 Tablespoons unsalted butter, melted
5 strips of thick-cut bacon, fried and crumbled
1 cup extra sharp cheddar cheese, grated
Preheat oven to 350 degrees F. Butter 8 mini loaf pans or extra-large muffin tins. Combine flour, cornmeal, sugar, paprika, onion powder, baking powder, baking soda, and salt in a medium bowl. Set aside. In a large bowl, use a wire whisk to combine buttermilk, egg and melted butter. Stir in the flour mixture until just combined. Fold in the bacon and 1/3 of the cheese.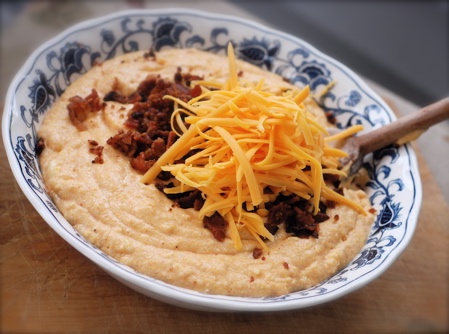 Pour about 1/2 cup batter into each of the buttered loaf tins. Bake for 8 minutes. Sprinkle the rest of the cheese evenly over the tops of the loaves. Bake just until a toothpick inserted in the center of the loaves comes out clean (about 8-10 minutes more.) Cool for 10 minutes. Loosen edges and turn out onto a wire rack. Serve warm.
Enjoy!
~Melissa
You may enjoy these related posts: