Print Friendly Version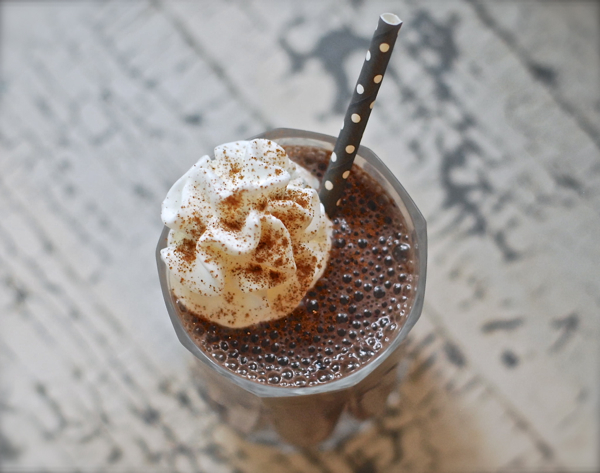 I'm addicted to this delicious, healthy smoothie. It's full of nutritious, tasty ingredients and I have one for breakfast or lunch almost every day. I don't usually put the dollop of whipped cream on top, but I had to doll this one up for her close up. Put the ingredients in your blender in the order listed and blending will be a breeze. I only add the maple syrup if the smoothie doesn't seem sweet enough (which usually happens if the banana I use isn't quite ripe enough.) Hope you enjoy!
for two smoothies:
1/2 cup plain greek yogurt
1 Tablespoon organic peanut butter
1/2 teaspoon turmeric
1/2 teaspoon cinnamon
1 Tablespoon flax seed meal
1 Tablespoon unsweetened dark chocolate cocoa powder
small handful of fresh kale or spinach
1 ripe banana
1/2 cup unsweetened vanilla almond milk
2 teaspoons pure maple syrup (optional)
Place all ingredients in blender in order listed. Pulse until very smooth. Pour into two glasses and top with a little dollop of whipped cream (if you wish.) Sprinkle a little extra cinnamon on top.
Enjoy!
~Melissa
You may enjoy these related posts: