Print Friendly Version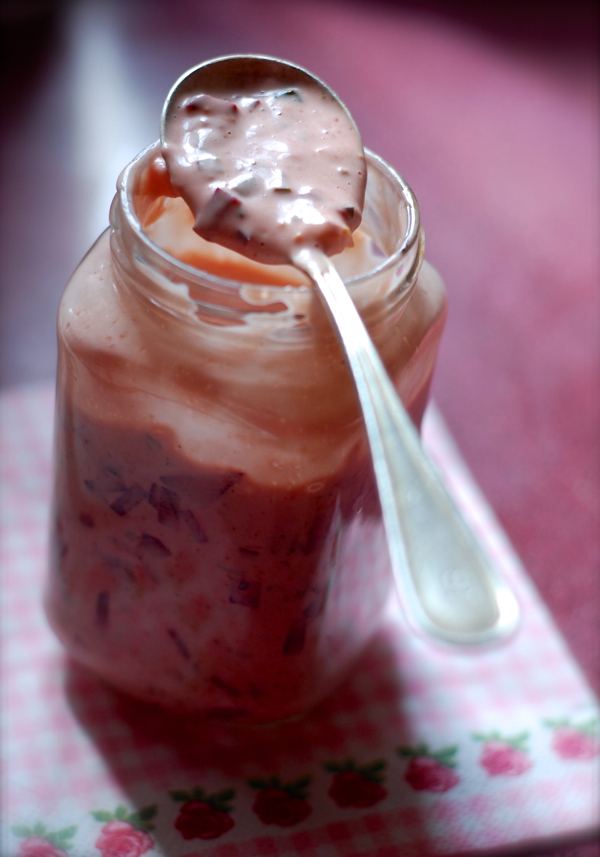 Did you know that the beaches in Bermuda are pink? This is due to their proximity to certain types of coral reefs. Just a little bit of trivia for your Friday, and the inspiration for one of my new salad dressings. Actually, this is just original Thousand Island dressing with raspberry vinegar and chopped beets added to it in place of chopped red bell pepper. It tastes fabulous and that pink color really is a gorgeous topping for a salad.
makes approximately 1/2 quart of salad dressing:
1 and 1/2 hard boiled eggs, completely cooled, peeled and chopped
2 Tablespoons Worcestershire sauce
1 and 1/2 teaspoons white sugar
2 Tablespoons raspberry vinegar
a tiny pinch of ground cloves
2 cups real mayonnaise (I used Hellmann's)
1/4 cup + 2 Tablespoons sweet pickle relish
1/4 cup black olives, chopped (not Kalamata)
1/4 cup fresh or pickled beets, chopped
In a medium mixing bowl, whisk all ingredients together until evenly blended. Transfer to canning jars with tight fitting lids. Refrigerate until ready to serve. This dressing will keep in your refrigerator for 10 days, and will become more pink as it "ages" in the fridge.
Enjoy!
~Melissa
You may enjoy these related posts: