Print Friendly Version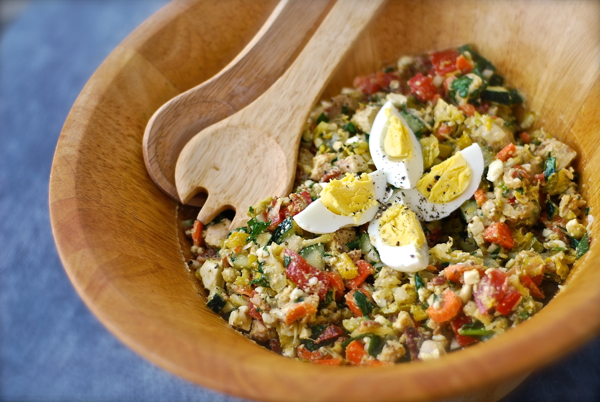 Here's a wonderful recipe for a hearty "meal in a bowl" type salad. It's chock full of everything. I love chop salads because by chopping up all of the ingredients you get tons of yummy flavor in every bite!
makes 4 big dinner salads or 8 smallish salads
2 large boneless skinless chicken breasts cooked, chilled and chopped
4 oz. feta or blue cheese, crumbled
2 hard boiled eggs, chilled and chopped
juice of 1 small lemon
1/2 of a cucumber, chopped
2 carrots, cleaned peeled and chopped
8 slices bacon, fried until crispy and crumbled
1/3 cup extra virgin olive oil
1 Tablespoon sweet pickle relish
3 cups chopped lettuce
2 cups chopped spinach
2 Roma tomatoes, seeded and chopped
1/2 cup freshly grated Parmesan cheese
1/2 small onion OR 5 spring onions, chopped
1/2 of a sweet bell pepper, seeded and chopped
2 large cloves garlic, minced
2 teaspoons sea salt
2 teaspoons freshly ground black pepper
Ranch dressing for topping
Chop all ingredients into little bite size pieces and toss everything, except for the ranch dressing, together in a large salad bowl so all ingredients are evenly combined. Adjust seasonings to your liking. Divide the chop salad among individual serving bowls and drizzle each with a little ranch dressing.
Enjoy!
~Melissa
You may enjoy these related posts: