Print Friendly Version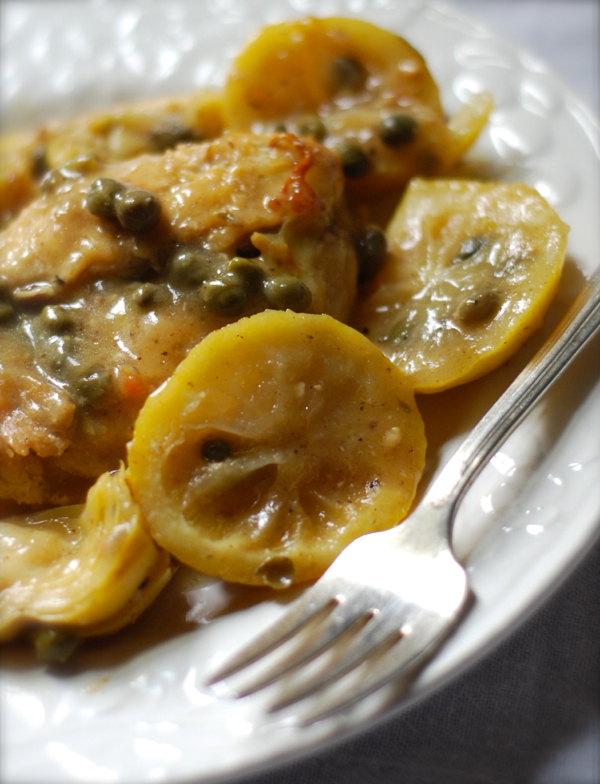 "Good Americans, when they die, go to Paris. "
~Thomas Gold Appleton
Here's the recipe for the Melted Lemon Chicken that Jeff and I made for my Paris themed birthday party. So delicious paired with fresh, steamed asparagus spears and baby red potatoes. Enjoy!
Ingredients
1 lb boneless skinless chicken breast (four to five pieces)
2 to 3 Tablespoons extra virgin olive oil
juice of one large lemon and a generous splash of white wine
1 lemon, very thinly sliced
3 tablespoons capers, drained
14 oz. marinated artichoke hearts (reserve marinade)
salt & freshly ground black pepper
2 Tablespoons cornstarch + 1/4 cup cold water, mixed well
Directions
Heat the olive oil in an 8-inch skillet over medium high heat, and swirl to cover the bottom of the pan. Add the chicken breasts and sear them until browned. Turn the chicken, and brown them on the other side. Remove the chicken breasts to a plate and increase the heat to high. Deglaze the pan with the lemon juice and wine, scraping up any browned bits into the sauce.
Add the stock and bring to a simmer. Add the lemon slices to the pan, reduce the heat to medium, and place the chicken breasts on top of the lemon slices. Add the capers, cover, reduce the heat to medium and cook, covered, for 10 minutes. Remove the lid and add the artichoke hearts along with marinade. Cover and continue cooking for five minutes, or just until the breasts are cooked through.
Remove the chicken to a warm plate. Increase the temperature and reduce the sauce to a glaze, adding cornstarch + water. Taste the sauce and adjust the seasoning with salt and pepper as needed. Just a little salt will reduce the acidity of the lemons, capers and artichokes and balance the flavors. Serve the chicken with the artichoke hearts, capers and melted lemons drizzled with the glaze.
Enjoy!
~Melissa
You may enjoy these related posts: