Print Friendly Version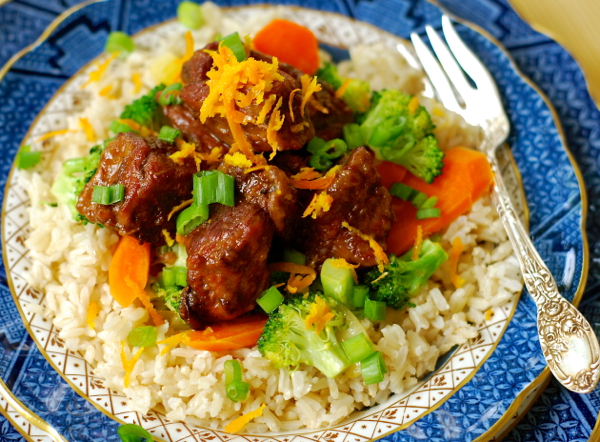 I'm always looking for new ways to cook a chuck arm roast in the slow cooker. It's the perfect way to prepare this cut of meat. Low and slow. It comes out falling-apart-tender and juicy every time!
This time I decided to adapt several of my slow cooker roast recipes and create a sweet, tangy, Asian dish. We love orange broccoli beef! It's fresh and summery with all of those veggies and bright citrus, but it's also good on a cold, rainy Minnesota day. Healthy comfort food. It turned out so good. Double the recipe if you're expecting company, or want leftovers for lunch the next day!
Note: Make up a batch of your favorite rice or noodles while the meat is slow cooking so it's ready to go at dinner time. Reheat if necessary.
~ serves 4 to 6 people ~
for the asian beef:
3 to 4 lb. chuck arm beef roast
approximately 1 cup all purpose flour (for dredging)
approximately 1/4 cup olive oil (for browning meat)
1 cup dry red wine
1/2 cup brown sugar
1/4 cup regular or lite soy sauce (or Ponzu)
2 large cloves garlic, minced
2 Tablespoons fresh ginger, grated fine
2 Tablespoons dark, toasted sesame oil
1 teaspoon freshly ground black pepper
1/4 teaspoon cayenne pepper
Cut the roast into 2 inch cubes. Remove as much fat from the meat as possible. Blot dry with paper towels. Dredge each chunk of meat in the flour and shake off excess.
Heat olive oil in a large, heavy skillet over medium-high heat. Once oil is hot, place some of the prepared meat pieces in the pan. Do this in batches and don't crowd the pan or your meat won't brown. Once meat is browned on a couple sides, transfer to the crock of a 7 to 8 quart slow cooker. Once all meat is browned and in slow cooker, add the wine, brown sugar, soy sauce, garlic, ginger, sesame oil, pepper, and cayenne. Mix well to coat. Cover slow cooker and place on the LOW setting for 5 to 6 hours, or just until meat is falling apart and very tender.
Once meat is almost done, prepare your stir fry veggies:
!/4 cup olive oil
6 large carrots, peeled and sliced thin
1 large onion, quartered and sliced
3 cups small broccoli florets
Heat olive oil in a heavy skillet. Once hot, add veggies and saute until tender, brilliantly colored, and hot. Deglaze pan with the juice of 1/2 large orange. Stir until the juice is absorbed by the veggies somewhat.
Putting it all together:
Once the meat is done, transfer it to a bowl and cover with foil. Unplug your slow cooker and carefully transfer all the pan drippings to a large saucepan.
In a small bowl, combine 2 Tablespoons cornstarch with 2 Tablespoons water.
Bring the pan drippings to a gentle boil. Whisk in the cornstarch mixture. Stir constantly until the juices thicken into gravy. Salt and pepper to taste.
Place some rice or noodles in the bottoms of single serving bowls, followed by some to the stir fry veggies, some of the beef, and some gravy. Garnish with fresh orange zest, hot sauce and chopped green onion or chives. Jeff loves peanuts sprinkled on top too.
Enjoy!
~Melissa
You may enjoy these related posts: