Print Friendly Version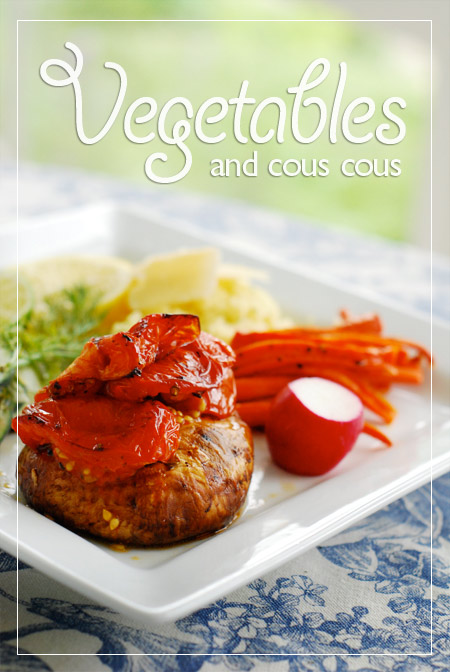 "It's difficult to think anything but pleasant thoughts while eating a homegrown tomato."
–  Lewis Grizzard
I wanted to make our dinner plate look like an artist's palette.
So, I arranged a rainbow of ingredients on a white plate.
Red– oven roasted tomatoes on top of huge, grilled Portobello mushroom caps and a single radish
Orange– oven roasted carrots
Yellow-cous cous topped with Parmesan curls and a lemon slice
Green– a little ramekin of cucumber salad with fresh dill and a lime slice
Blue– tablecloth
Purple– a nice glass of Cabernet Sauvignon
*
To oven roast carrots and tomatoes-
Preheat oven to 350 degrees F.

Wash, peel, and slice 8 large carrots about 1/4 inch thick (lengthwise.) Place on a lightly oiled baking sheet in a single layer and drizzle with a little more extra virgin olive oil. Wash and quarter 4 medium size tomatoes. Coat with EVOO, place on baking sheet in a single layer along with the carrots. (Or use another baking sheet if you don't have room on one.) Sprinkle all with a little salt and freshly ground pepper. Bake for 30-45 minutes, checking veggies for desired doneness.
For the cucumber salad-
Wash and thinly slice 1 large cucumber. Add 1/4 cup thinly sliced sweet onion, 1 Tablespoon chopped, fresh dill, 1/4 cup real mayonnaise, a splash of white vinegar, and a little white sugar, salt and pepper (to taste.) Chill until ready to serve.
Serves 4
Enjoy!
~Melissa
You may enjoy these related posts: