Print Friendly Version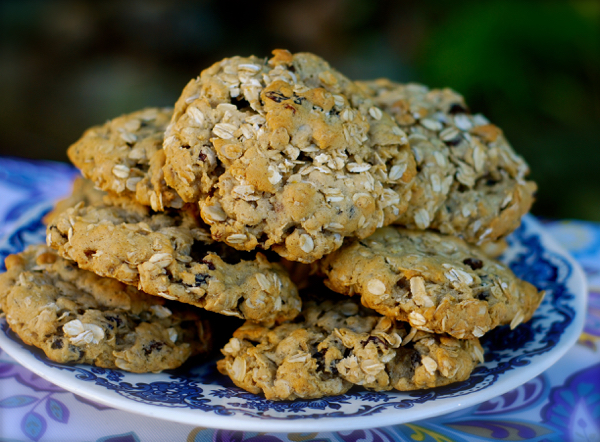 These giant, chewy, delicious, oatmeal raisin cookies could (and sometimes do) double as breakfast! We like them with a tall glass of vanilla soy milk, coffee, or tea!
My oatmeal raisin cookies go together quickly and only take about 10 minutes to bake. Feel free to substitute dried cranberries or cherries for the traditional raisins. I've been known to use chocolate chips in place of the raisins too. And, sometimes, a combination of cherries and chocolate! Have fun coming up with your own combinations.
~ preheat oven to 350 degrees F. ~
1/2 cup vegan butter (like organic Earth Balance) softened to room temperature
3/4 cup firmly packed brown sugar
1/2 cup granulated sugar
2 Tablespoons ground flax seeds (flax seed meal)
1/4 cup water
2 teaspoons pure vanilla extract
1 and 1/2 cups all purpose flour
1 teaspoon baking soda
1 and 1/4 teaspoons cinnamon
1 teaspoon salt
1 cup raisins (or craisins… or dried cherries… or chocolate chips…)
3 cups old fashioned rolled oats (not quick cooking and not steel cut)
Mix the flax and water in a small bowl. Whisk, using a fork, set aside.
In a large bowl, beat vegan butter and sugars until light and creamy. Once flax mixture is thick, add it to the butter mixture along with the vanilla. Beat until well combined.
In another bowl, mix the flour, baking soda, cinnamon, and salt.
Add flour mixture to the wet mixture. Mix well. Add oats and raisins. Mix well.
Line a large baking sheet with cooking parchment. Form dough into golf ball-sized balls and place them a couple inches apart. Press them down slightly.
Bake 8 to 12 minutes or until lightly golden. Cool one minute on cookie sheet and then transfer to wire racks to cool completely. Once cool, store in a tightly covered container at room temperature. Makes about 2 dozen big cookies.
Enjoy!
~Melissa
You may enjoy these related posts: