Print Friendly Version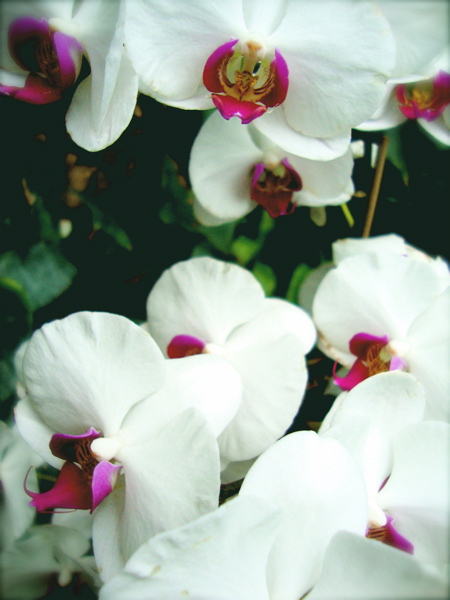 photograph by Melissa Placzek
When Jeff took me to Maui to celebrate my book "Chin Deep in Bubbles" coming out in paperback, he surprised me with a beautiful stay at The Ritz Carlton in Kapalua for our 10 day island vacation. After hours and hours traveling on planes to get from Minnesota to the island of Maui, we thought we had arrived in paradise as we stepped up the walkway to our hotel.
The Ritz Carlton resort lobby was a dream. There were huge arrangements of tropical flowers, palm trees, gorgeous artwork, tapestry rugs, and marble & crystal everywhere! When we arrived at the resort we were greeted with orchid and ti leaf leis. While walking through the open-air hallways, we were serenaded by the songs of tropical birds and the heady scent of white ginger, red ginger, blue ginger, orchids and plumeria.
Our suite had warm yellow walls, beautiful Hawaiian printed curtains that covered the French doors leading to our lenai, a quaint sitting area, and a bed covered in gorgeous goose down comforters and feather bed.
When we arrived back home in Minnesota we decided to give our bedroom a Maui makeover. We started by painting the walls and ceiling "Parchment." This color is available by Sherwin Williams and is almost an exact match of the color of our Maui suite. The type of paint we used was called "Harmony." This paint is odor free and earth friendly.
We dressed the windows in vintage reproduction bark cloth curtains with a white background and lime green and avocado colored foliage, with raspberry, pale pink and canteloupe colored flowers. These beautiful curtains, along with the warm colored walls created a rich, new palette for our room. Our sheets and bedding are coordinated to match these citrusy colors.
Some of the embellishments that truly make the room special include:  tiki framed mirrors and lamps with pineapple bases on each of our bedside tables.
Decorating a room in the theme of a place you've traveled can help you re-live the vacation for months after you arrive home!
You may enjoy these related posts: