Print Friendly Version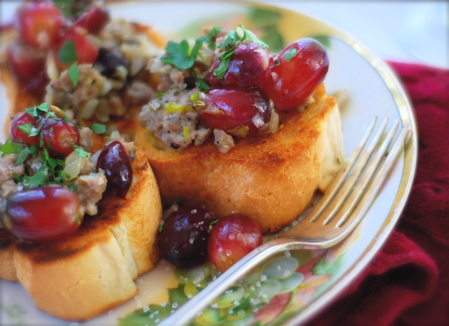 ~ tuscan vineyard sausage & grape bruschetta ~
A new twist on bruschetta! We love the classic bruschetta and artichoke bruschetta recipes too…and caprese…and easy breezy caprese…and almost all types of mushroom crostini….but this is something really different for you to try. Perfect for a romantic wine lunch or girlfriends lunch, or as a wine tasting party appetizer. Jeff and I had this for lunch yesterday and it was even better than we imagined it would be.
1/2 lb. sweet Italian sausage
1 small red or white onion, chopped
1 or 2 large cloves garlic, minced
1 Tablespoon fennel seeds
1 lb. seedless red grapes
French or Italian bread
butter
salt and freshly ground pepper to taste
chopped parsley
If the sausage is in link form, remove the casings. Saute the sausage, onion, and fennel until onion is transparent. Add the minced garlic and cook for one minute before adding the grapes. Mash the grapes slightly to release the juices. Lower heat to keep warm while you make the crostinis.
While the sausage grape mixture is warming, make your crostinis by slicing thick pieces of bread, buttering each slice (on both sides) and toasting them on a griddle or skillet over medium heat until golden brown.
Remove the crostinis to a serving platter or individual plates. Top with the bruschetta mixture, garnish with salt pepper and a little chopped parsley if you wish.
Enjoy with a glass of your favorite wine!
~Melissa
You may enjoy these related posts: